Grow Your Career with GoodLife Home Loans®
Help people achieve their financial goals. Help take your career to the next level.

  Family Operated, Family Focused

 Top-Rated Service

Lower Rates*
Customer First —
It's Our Philosophy
Reverse mortgages are empowering tools that can help people improve their lives in retirement. We put our customers above all else and carefully consider whether a reverse mortgage would be the best choice for their personal circumstances. The GoodLife
team of reverse mortgage experts provides customers with valuable education they can trust, guiding them every step of the way.
We strive to deliver best in class customer service with lower rates and fast processing times. We put in the extra effort every day to deliver on the GoodLife promise of improving lives in retirement.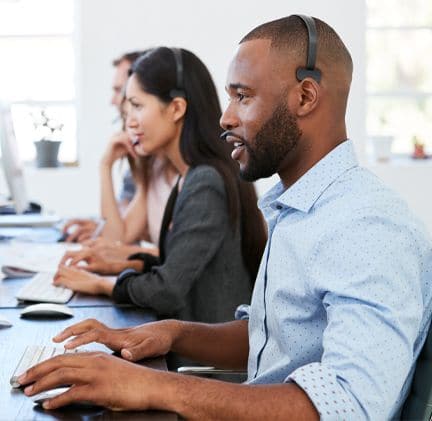 Togetherness—
It's Our Culture
We love what we do—and we love doing it together. Every team member is a direct contributor to our overall success–and we make sure employees know their work is appreciated by rewarding results. GoodLife promotes individual development and provides all the tools you need to grow your career, but we also foster a collaborative environment and continuously share ideas to improve our company.
The more efficient we are at reaching people, the better experience we can deliver, and the more lives we can change.
Reverse Mortgage Loan Officer
Must have Current NMLS License
Scope of Responsibilities for the Reverse Mortgage Loan Officer:
Originate reverse mortgage loans and deliver excellent customer service
Execute purchased leads from various sources such as LendingTree, Consumer Advocate, Internet Leads
Educate prospective and existing customers on Reverse Mortgages. Connect with them over them using tools such as phone, text, email, and videos
Effectively builds ongoing relationships with multiple contacts including, customers, employees, peers and superiors, to create a professional network through proactive communication
Ensures timely and responsive customer contact, needs-based selling techniques and by adhering to all applicable guidelines
Conducts interviews with prospective borrowers to analyze financial and credit data, determine financing objectives and advises customer on product/pricing/process
Recommends and outlines terms of loan and informs and educates prospective borrowers of loan commitments
Gathers all required information and follows loan from application to closing, ensuring continued communication with the customer throughout the process
Ensures exceptional customer service by maintaining thorough knowledge of all lending programs, policies, procedures, and regulatory requirements
Ensures proper documentation and tracking of loan information
Learn and keep up to date on all HECM/FHA guidelines and Proprietary guidelines
Attend all sales meeting and training sessions that employee is invited to
Maintaining personal licensing and registration with National Mortgage Licensing System (NMLS)
Upholding a professional company image at all times
Meeting/exceeding production standards consistent with company policies and procedures
Maintain a thorough understanding of reverse mortgage industry regulations, trends and current issues.
Perform miscellaneous duties as needed and required by upper management
Lead by example to promote an efficient sales environment by motivating fellow team members
Effectively manage customer & vendor issues that might pop up from time to time and develop and deliver appropriate resolutions
These tasks are some, but not all, of the duties that will be executed and delivered
Required Skills/Abilities:
Current NMLS License
Excellent interpersonal and customer service skills.
Excellent organizational skills and attention to detail.
Thorough understanding of Reverse Mortgages.
Proficient with Salesforce, Microsoft Office Suite or related software.
Key information on position:
Excellent Benefits including health, dental and vision insurance, FSA, 401(k) matching and more Traditional Mortgage Acceptance Corporation dba GoodLife Home Loans NMLS#971307
To apply for an open position, please email:
Senior Regulatory Compliance Analyst – Licensing
Responsibilities:
This Senior Regulatory Compliance Analyst will be responsible for obtaining nationwide licensing approvals with state and federal governments in mortgage banking, brokering, servicing, debt collection, consumer finance, and reverse mortgage.
Essential Functions:
File renewals, annual reports and Mortgage Call Reports for mortgage banking and consumer finance activities
Reviews and analyzes business activities to determine appropriate license requirements by state
Prepares licensing summary charts for tracking status of filings with state and federal agencies
Reviews corporate information and business activities; populate company data for Nationwide Multi-State Licensing System ("NMLS ") record; prepare license applications for state licensing incorporating client information and business activities conducted by state
Coordinates personal disclosure filings for natural persons involving non-personal public information and highly sensitive biographical and financial data
Prepares letters, list of enclosures and exhibits to accompany license applications for submission to state agencies via the NMLS and outside the system
Contacts state regulators to obtain approvals, monitor status of filings and seek clarification on position or policy of state agency
Research statutes and regulations under mortgage banking and consumer finance laws and summarize findings in written format, i.e., charts, letters, email, or memorandum
Tracks legislative updates under mortgage banking and consumer finance laws and prepare summaries of changes for distribution to licensing group
Participate in system training and user testing for NMLS updates
Independently manages projects, takes lead on status calls and reports to Licensing Manager and Director of Compliance.
Assist during state exams as needed
Must comply with all company policies and procedures and all federal and state applicable laws and regulations, including but not limited to, the Bank Secrecy Act, the Patriot Act, and the Office of Foreign Assets Control. Must complete the assigned online training courses and achieve a passing score by due date.
Education/Training/Certifications:
Bachelor's degree in a related field. Will accept an equivalent combination of education and/or experience may be considered in lieu of the degree when the experience has been directly related to the functions of the job
Regulatory compliance certification CRCM, CRCMP, CCEP, CUCE or other designations preferred but not required
Professional Experience:
Minimum 5 years of related state licensing experience required
Performance Traits and Knowledge Skills:
Advance user of Microsoft Office Suite of products
Knowledge of State Examination System a plus
Strong written and verbal communication skills
Ability to work in a diverse team environment and effectively support the demanding needs of the company
Ability to work under pressure, meet deadlines with shifting priorities
Must be a self-starter with a high level of initiative
Strong customer service skills, able to anticipate needs and exercise independent judgment
Strong attention to detail, organizational skills, and the ability to handle multiple projects
Maintains confidentiality and exercises discretion
Exercises solid strategic thinking and problem-solving skills
Interpersonal Skills –strong team player, professional manner, and effective collaboration, flexibility, and efficiency. Consistently exercise discretion and sound reasoning abilities
Knowledge of the relevant nationwide statutes and regulations applicable to licensing is necessary
Quality Control – monitor own work to ensure high quality standards are met
Demonstrated administrative skills necessary for effective oversight of projects, including coordination of work/processes, and the ability to listen and counsel while demonstrating confidentiality and resourcefulness
To apply for an open position, please email:
D/E Underwriter
Primary Job Duties
Follows and completes company checklist to ensure compliance with FHA & TMAC underwriting standards
Analyzes and reviews documentation for accuracy and completeness while maintaining service level agreements
Effectively communicates deficiencies or exceptions with timely follow up
Enters and verifies data in web-based and software programs to ensure completeness, accuracy, and conformance to policies and procedures
Works collaboratively within the team to promote inclusiveness, transparency and opportunities to contribute to the team
Proactively manage a pipeline of loans to provide the highest level of services to our customers
Understands title policies, appraisal requirements, product guidelines, and loan documentation
Responsible for timely completion of assigned training, including product specific, Federal or State guidelines, and others as required by the Company
Assists supervision & training of loan processing staff
Provides support for other Company roles or tasks as assigned by manager
Competencies
Active CHUMS ID Designation Required
Minimum three (3) years full-time experience in reviewing credit applications and one- to four-unit property appraisals within the past five (5) years; OR
Have a minimum of two (2) years full-time experience reviewing credit applications and one- to four-unit property appraisals within the past three (3) years, combined with an additional three (3) years of such full-time experience within the past ten (10) years
Underwriter must be a full-time employee of a single Mortgagee (Lender)
Underwriter must be authorized to bind the Mortgagee in matters involving origination of mortgages
Underwriter will be registered in FHAC using CHUMs number issued by FHA
Trust and Teamwork
Ability to effectively work within a team with a shared passion to succeed in everything that we do, exercising integrity and respect while doing the right thing.
Effective Communication
Ability to effectively deliver, interpret, and receive information through various communication methods.
To apply for an open position, please email: