Whether you're just beginning to think about retirement or you are starting to settle into your post-retired life, it's wise to think about how you want to manage your future health. Your health is an unpredictable variable, so it's critical you consider your long-term care options ahead of time. According to ElderCare.gov, two out of every three Americans will eventually need help with daily living activities like dressing and bathing due to illness or disability. It might sound crazy to you now, but considering those statistics, the need for care is not out of the realm of possibilities.
With that information in mind, you'll need to decide if you would rather age in place with in-home care or move into a long-term care facility. Below, we will discuss the differences between your options and how you can afford your medical care long into the future.
Keep reading for a full overview or simply navigate to the section you'd like to learn more about.
Assisted Living Facility
An assisted living facility allows retired seniors to enjoy independent living as long as possible in a community where autonomy, privacy, and safety are paramount. These facilities also place an emphasis on community engagements and usually range in size from 25 to 120 residents.
A typical resident lives in an assisted living facility for two to three years before moving into a nursing home. There are other reasons an assisted living facility discharges an individual as well, including:
To return home
For a hospital stay
Financial issues
To move to another facility
Residents typically live in their own semi-private or private apartments. Different types of apartments may be available to choose from, such as studios, one-bedroom private apartments, or even dorm-style bedroom arrangements.
Assisted living facilities offer different services that vary on a case-by-case basis but might include:
24-hour security
Wellness initiatives
Social and spiritual activities
Transportation
Personal laundry services
Recreational activities
Housekeeping and maintenance
Educational activities
Three meals a day
Help with daily activities
Medicine assistance
Health programs and services
Organized exercise
Emergency call systems
Nursing Homes
Also known as skilled nursing facilities, nursing homes are meant for seniors who need more serious medical assistance and round-the-clock monitoring. If you have a serious illness or you're recovering from a serious injury and cannot care for yourself, a nursing home is an option.
Assisted living vs nursing home
Unlike assisted living facilities that offer residents help with some or all basic living activities such as bathing, eating, and dressing, nursing homes are geared toward those with health conditions requiring long-term medical care. These facilities typically have medical staff there 24 hours a day and some are set up like hospitals.
Around a quarter of those admitted to nursing homes only spend 3 months or less there. In addition, many who are admitted into a nursing home are there for terminal care.
Services at nursing homes vary based on the facility and state by state. Generally, there's a doctor or nurse on the premises for medical needs in addition to physical therapists and social workers.
Services that are offered by a nursing home may include:
Private or semi-private rooms
Three cooked meals
Housekeeping and laundry service
Speech therapy and pain medication management
Hospice services
Exercise and physical therapy programs
Social programs and activities
24-hour staffing and personal assistance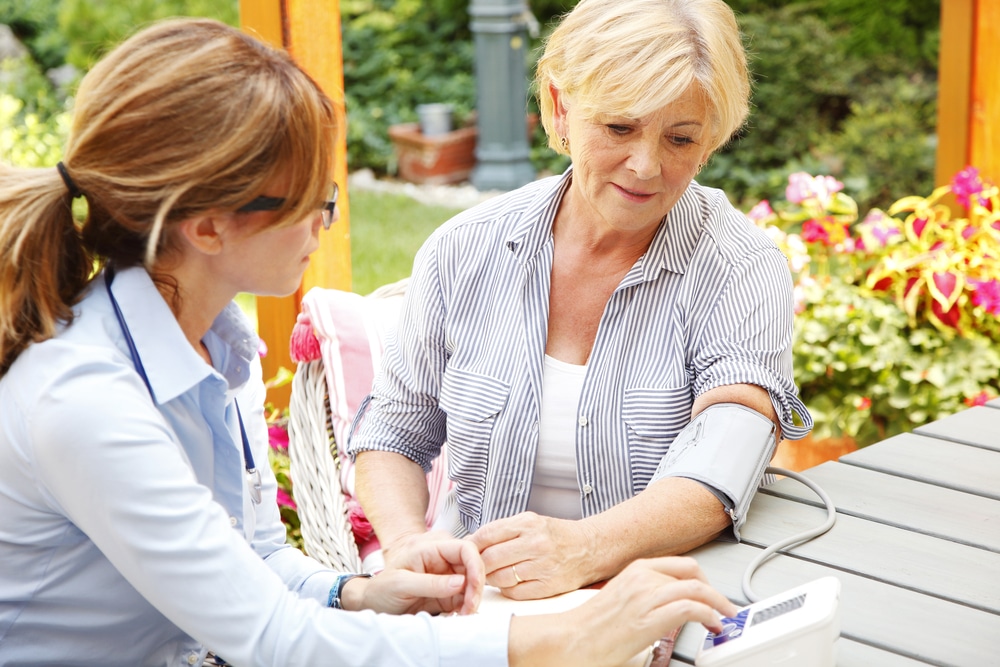 In-home care
Another long-term healthcare option is home care with a home health aide. It comes as no surprise that seniors prefer in-home care. In-home care differs from assisted living facilities and nursing homes in that you continue to reside in your own familiar environment. If you have health conditions, you have the option of hiring an in-home health aide specific to your needs.
In-home care services can range from specialized medical services like lab workups to nursing care and therapy.
Here are some services in-home care may include:
Doctor care: diagnose conditions, treat illness, and create a long-term health plan
Nursing care: wound dressing, IV therapy, medication assistance, pain control, etc.
Physical therapy
Speech therapy
Medical social services like emotional and behavioral therapy
Day-to-day living assistance: dressing, walking, bathing, chores, laundry, meal preparation, etc.
Companionship and supervision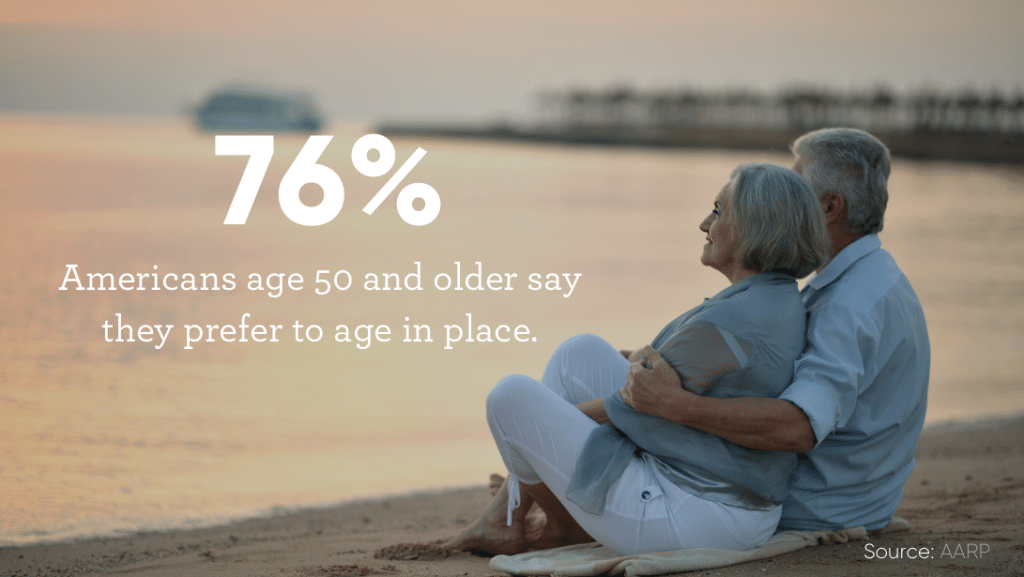 Benefits of elderly living at home
1.   Maintaining a sense of independence and comfort
One of the main benefits of in-home care is that you get to remain in an environment that's most comfortable to you and stay as independent as possible. Living in the comfort of your own home can increase your quality of life compared to an unfamiliar or distant long-term facility. In addition, you'll have more privacy in your own home than you would in a long-term care facility.
2.   Cost-saving
Home-care may be the most economical choice for long-term care compared to nursing homes or assisted living facilities. However, this will depend on your specific medical needs.
3.   Faster recovery
Research suggests that recovery at home after a hospitalization or illness is faster and more successful than staying in a hospital. Plus, recovering in your own home means there is a reduced risk of healthcare-associated infections (HAIs) which you can contract in hospitals, long-term care facilities, and other health centers. They're especially dangerous for the immuno-compromised like seniors dealing with illness.
4.   A support system
If you're managing a health condition, it's harder to heal without the support and close proximity of friends and family. An assisted living facility or nursing home often means moving away from family, possibly with limited visiting hours. Research suggests that a good family support system provides you with companionship and positively contributes to your overall well-being.
5.   Faster release from the hospital
Because you can get follow-up care when you leave the hospital, you'll often be released earlier than you would otherwise after a procedure or treatment in a hospital.
What are the costs of different long-term elder living arrangements?
The price difference between different long-term care options can be confusing. Curious about the cost of home care vs nursing homes and the cost of assisted living vs in-home care? Below, we've gathered the national median costs but these prices can vary based on what services are offered.
Cost of assisted living facility
Cost of nursing home
Semi-private room:
Private room:
Cost of in-home care:
Home health aide (half-day cost)
As you can see, the cost of home care vs nursing homes and assisted living facilities is noticeably more budget-friendly.
Paying for long-term care
Even if you're in perfect health now, it's a good idea to plan for the future and make sure that you have adequate savings so you can financially weather any changes to your health as you age. If necessary, individuals can see if they can extract home equity with a reverse mortgage.
For example, you can put it towards your health care expenses in addition to home remodels or even a vacation. With that said, you may be required to set a portion of funds aside for repairs, property taxes, and homeowner's insurance.
A reverse mortgage can provide you with the peace of mind that you can age-in-place in the comfort of your own home, with neighbors and family close by. Nothing can replace the feeling of home, especially when you want to enjoy your retirement years to the fullest.
Home care takeaways
If you're managing chronic health conditions or simply want to be prepared for any future health considerations, you should always make a plan ahead of time so decisions aren't made against your wishes. While assisted living facilities and nursing homes offer services that may help increase your quality of life, home care may be the right option if you want to live out your retirement from the comfort of your own home.
As much as outside health facilities may try to create a comfortable environment, they can't take the place of your favorite armchair or a beloved walking loop around the neighborhood. If you'd like to learn more about the advantages of a reverse mortgage, our GoodLife reverse mortgage specialists are standing by to assist you with the reverse mortgage application process.