Retire the Stress, Live the Joy
Turn the home equity you've been building for years into cash
We're Traditional Mortgage Acceptance Corporation doing business as GoodLife Home Loans. We're here to help you with a reverse mortgage so you can realize your vision of retirement. More time with family and friends? A new or renovated home? Paying for a family member's higher education? Travel to places you've always wanted to visit? Whatever it is you want out of life, your home equity can help you fund it – and a reverse mortgage can help you access it.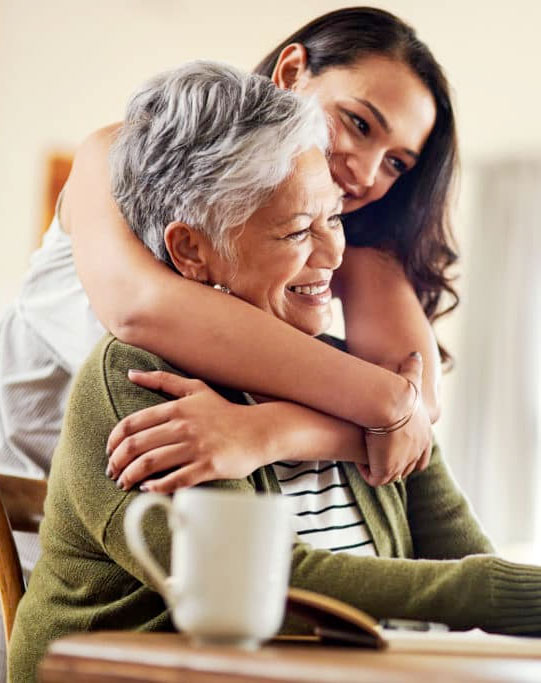 Reverse Mortgages Demystified
Millions of seniors are finding that a reverse mortgage makes a lot of sense. Here's why:
You continue to own your home, just like with any other mortgage.
You don't need to make monthly payments. Principal and interest are only due when your home is sold. You will have responsibilities with a reverse mortgage, such as paying the property taxes, homeowners insurance premiums and home maintenance expenses.
You decide how you want to use the proceeds. Use the money to supplement your income, make home improvements, preserve your investments or even pay for long-term care.
Loan proceeds do not affect Medicare and Social Security benefits. However, loan proceeds could impact eligibility for needs-based programs such as Medicaid or Supplemental Security Income by counting toward qualifying income and asset limits.
We Make Reverse Mortgages Easy and Affordable
By offering guidance and personalized attention, and lower rates* than other lenders, we've helped our borrowers use reverse mortgages to solve the common challenges and concerns of retirement. You can draw more at closing with lower rates, and more of your home equity is preserved over time with the slower growth of your loan balance. Get a general sense of the
proceeds you can expect
based on age and appraised property value (APV), and then contact us for a detailed estimate.
*GoodLife Home Loans had the lowest adjustable rates on average for the year 2021, based on HUD data (among reverse mortgage lenders with 200+ loans).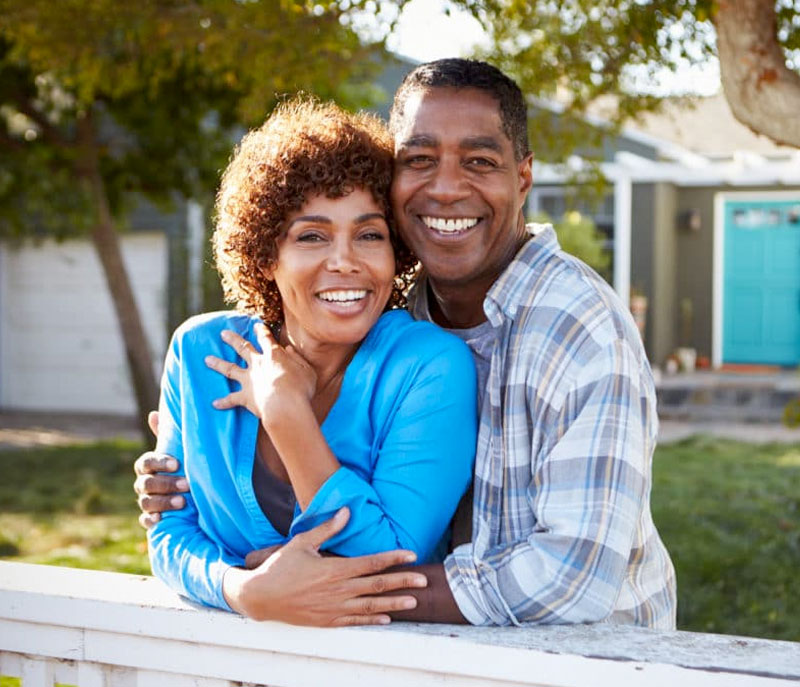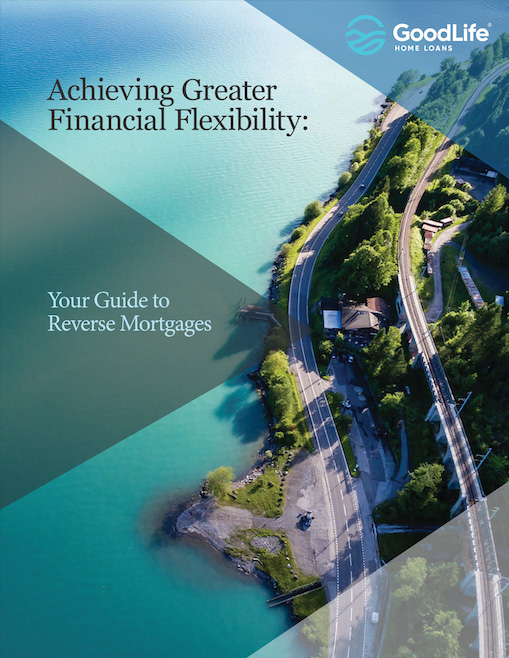 Achieve Greater Financial Flexibility Through A Reverse Mortgage
If you don't have as much control over your financial future as you'd like, you're not alone. Millions of homeowners have found a reverse mortgage to be a good way to become more financially secure.
We cover the basics of a reverse mortgage in our free guide. Download it today to learn more about this unique way to tap into your home equity as part of a holistic approach to your retirement plan.
Go With A Lender You Can Trust
It can be hard to know which lender to choose. Finding a company that will treat you with respect and operate with integrity is important. At GoodLife Home Loans, our motto is, "a business for good is good business." Our family-owned business has helped place thousands of homeowners on the path toward achieving greater financial flexibility with a reverse mortgage. In so doing, we've earned an A+ rating from the Better Business Bureau and
five-star rating on Trustpilot
, the world's largest and most trusted open review platform.
See How Much You Could Get From A Reverse Mortgage
Use our reverse mortgage calculator to find out how much money you could access with a reverse mortgage. (We have a refinance calculator, too!) You'll find the amount varies based on your age and home equity. The amount might be more than you think!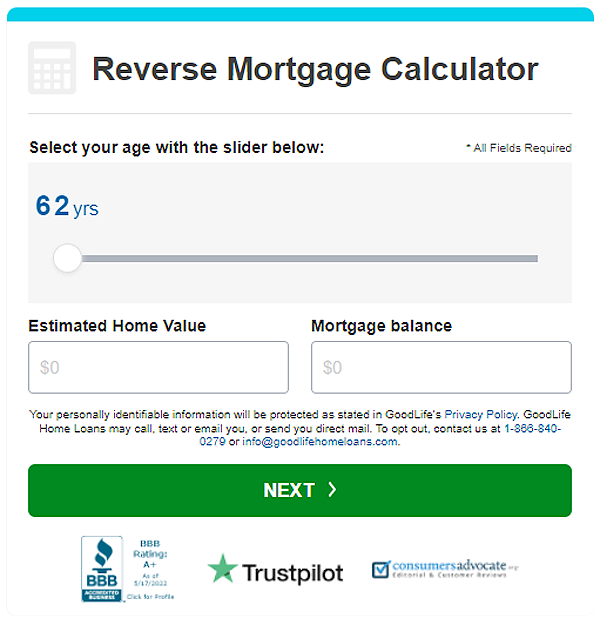 New for 2023
Lending limits increase
Now's a great time to be looking into a getting a reverse mortgage – or refinancing an existing one. Recognizing that home values continue to rise at a rapid pace, the Federal Housing Authority (FHA) increased lending limits for 2023 from $970,000 to $1,089,300. The increase is the largest ever and higher than expected. More money's possible out of a reverse mortgage than ever.
Now's not the time to lose momentum if you're considering a reverse mortgage. Contact us today!
GoodLife Home Loans currently offers reverse mortgages in 38 states.
Review the map below and click on your state to learn more information about your reverse mortgage options.
Statement:
A reverse mortgage increases the principal mortgage loan amount and decreases home equity (it is a negative amortization loan). GoodLife Home Loans works with other lenders and financial institutions that offer reverse mortgages. To process your request for a reverse mortgage, GoodLife Home Loans may forward your contact information to such lenders for your consideration of reverse mortgage programs that they offer. Reverse mortgage loan terms include occupying the home as your primary residence, maintaining the home, paying property taxes and homeowners insurance. Although these costs may be substantial, GoodLife Home Loans does not establish an escrow account for these payments. However, a set-aside account can be set up for taxes and insurance, and in some cases may be required. Not all interest on a reverse mortgage is tax-deductible and to the extent that it is, such deduction is not available until the loan is partially or fully repaid. GoodLife Home Loans may charge an origination fee, mortgage insurance premium (where required by HUD), closing costs and servicing fees, rolled into the balance of the loan. GoodLife Home Loans charges interest on the balance, which grows over time. When the last borrower or eligible non-borrowing spouse dies, sells the home, permanently moves out, or fails to comply with the loan terms, the loan becomes due and payable (and the property may become subject to foreclosure). When this happens, some or all the equity in the property no longer belongs to the borrowers, who may need to sell the home or otherwise repay the loan balance.