Reverse mortgages allow retirees 62 years of age and older to use their home's equity for an additional source of income. This is a valuable financial tool for senior homeowners as it provides a reliable cash flow for them to enjoy their retirement to the fullest. To successfully close a reverse mortgage, there are a few documents you'll need to have ready.
In this post, we'll go over the reverse mortgage closing documents you'll need to finalize your loan. We'll also take a close look at the closing process to help you prepare for this momentous financial decision. 
Key takeaways
To finalize your reverse mortgage, you'll have to schedule a closing appointment to discuss the details of your loan and sign.

There are various

reverse mortgage guidelines

that you must complete before you're able to schedule a closing appointment. 

Keep in mind that you'll have to pay upfront closing fees prior to signing. You may also have ongoing fees that you'll have to take care of. 

After signing, you have a three-day grace period to cancel the reverse mortgage agreement. 

Having the necessary mortgage closing documents prior to closing will make wrapping up the transaction quicker. 

Understanding Reverse Mortgage Closing
Closing is the final step of the reverse mortgage process. At closing, you and other parties involved, such as a loan officer and closing agent, meet to finalize the transaction and sign the necessary paperwork. This step can also be referred to as signing or settlement. 
After settling the deal, there are a few obligations that you'll be responsible for, such as:
Making the property your primary residence  

Paying your property taxes on time 

Having homeowners insurance 

Keeping your home in good condition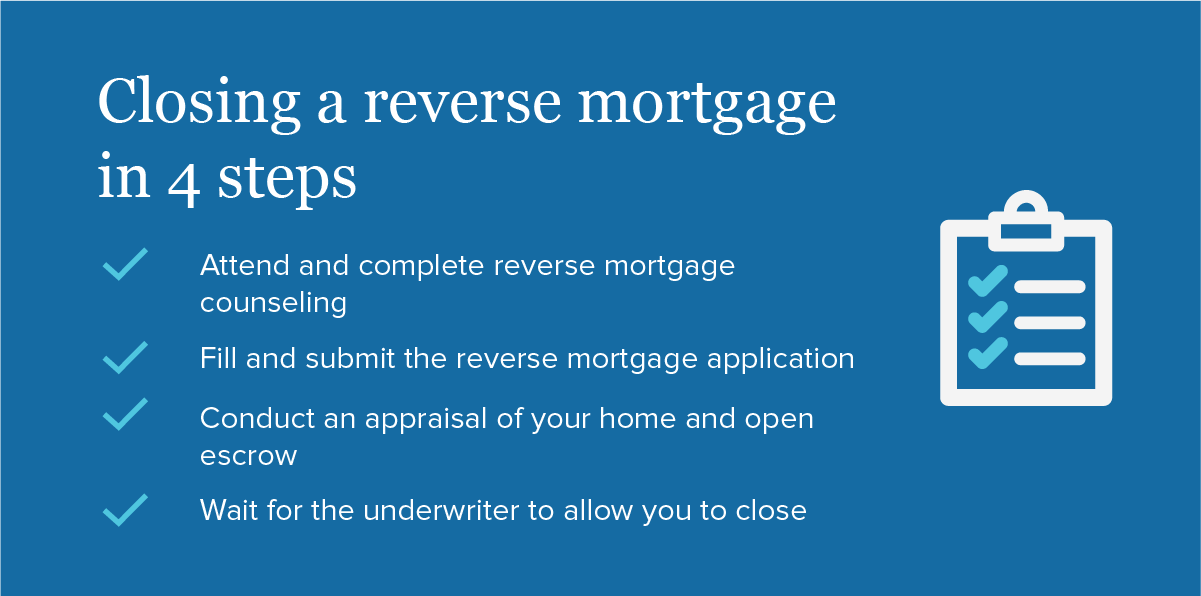 What is the reverse mortgage closing process?
Like a traditional mortgage, there are certain steps you must execute to be able to sign your loan and start receiving funds. To get to closing, here are the steps you'll have to complete: 
Attend and complete reverse mortgage counseling approved by the U.S Department of Housing and Urban Development. This is generally a one- to two-hour course that can cost anywhere from $125 to $200.

Meet with a reverse mortgage specialist to fill out and submit your application. It's crucial that you work with a professional to ensure your application has the best chances of getting approved. 

Hire an appraiser to evaluate the current value of your home and open escrow to order a title report. Use our

FHA appraisal checklist

to prepare for the assessment. 

Wait for the underwriter to make your loan status clear to close or request additional documentation. 
When your loan application for a reverse mortgage is approved, and an appraisal of your home has been conducted, you'll begin the closing process by scheduling a closing date with the title agent. In some states, you'll be required to have an attorney present at the signing. 
During your closing appointment, you'll meet with the lender to confirm your payment plan, which includes your monthly payments, gather mortgage closing docs, and discuss final figures. You can also ask to receive a lump sum during this time. Moreover, if you have existing mortgages, you'll work with the closing agent to pay off the current lien. A closing agent will oversee this process, which should take about an hour.
Getting Started with Reverse Mortgages

If you're looking to get started with a reverse mortgage, these articles can help guide you through all aspects of the process.

Guide to HECM Loan                                      Reverse Mortgage Limits

Non-Borrowing Spouse Protections              Jumbo Reverse Mortgages
At signing, you'll receive a closing package containing the following documents: 
HUD-1 Settlement Statement

: This is a form that discloses the closing costs, interest rates, mortgages, and net proceeds of your reverse mortgage.

First and second deeds of trust

: One deed of trust is for the lender, which holds a first lien position, and the second is for the Federal Housing Administration (FHA), which holds a second lien position. This safety measure allows the FHA to step in if the lender doesn't fulfill their contractual duties. Both of these documents are essential and must be filed at your county's courthouse after closing. 

Reverse mortgage agreement

: This is a 10-page mortgage closing document explaining how your reverse mortgage will work. It also details your responsibilities as well as the lenders. 

Truth in Lending disclosure and right of rescission form

: This explains that you, as the borrower, have a legal right to cancel the transaction within three days if you change your mind.   
Once the three-day grace period has passed, you can start receiving payments. The amount you receive depends on the type of reverse mortgage you applied for, which will either be a lump sum, monthly installments, line of credit, or a combination of these options. There are benefits and advantages to each, so you'll want to think carefully about your specific needs. 
Reverse Mortgage Closing Timeline
Closing a reverse mortgage can range between a few business days to 21 and 45 days. However, depending on your circumstances, it may take longer to complete. The process can take a significant amount of time because you have to gather important paperwork and different parties need to be contacted. 
Keep in mind that certified closing agents who are part of the National Reverse Mortgage Lenders Association (NRMLA) will not pressure you to sign within a certain timeframe. It's your decision, so it should be made whenever you feel comfortable and ready. 
Reverse Mortgage Closing Documents 
To close your loan, here's a list of the reverse mortgage closing documents you'll need: 
Driver's license, state issued ID card, or other appropriate form of identification. Regardless of what you choose, make sure it's not expired. 

Social Security card.

Social Security awards letter.

Home insurance policy. 

Proof of property tax payments.

Property title or deed, if applicable. 

Current mortgage statements, if applicable. 

Certificate of reverse mortgage counseling.

Bank statements from the last two months. 

Financial statements for all assets, including 401K, pension plans, annuities, and savings.

Death certificate of spouse, if applicable.

Durable power of attorney, trust agreement, conservatorship, if applicable. 
Generally, printed copies are suitable for the majority of the documents above. The only exception are the mortgage statements. The lender you're working with will also help guide you on the documents you should provide in your application to successfully close your reverse mortgage.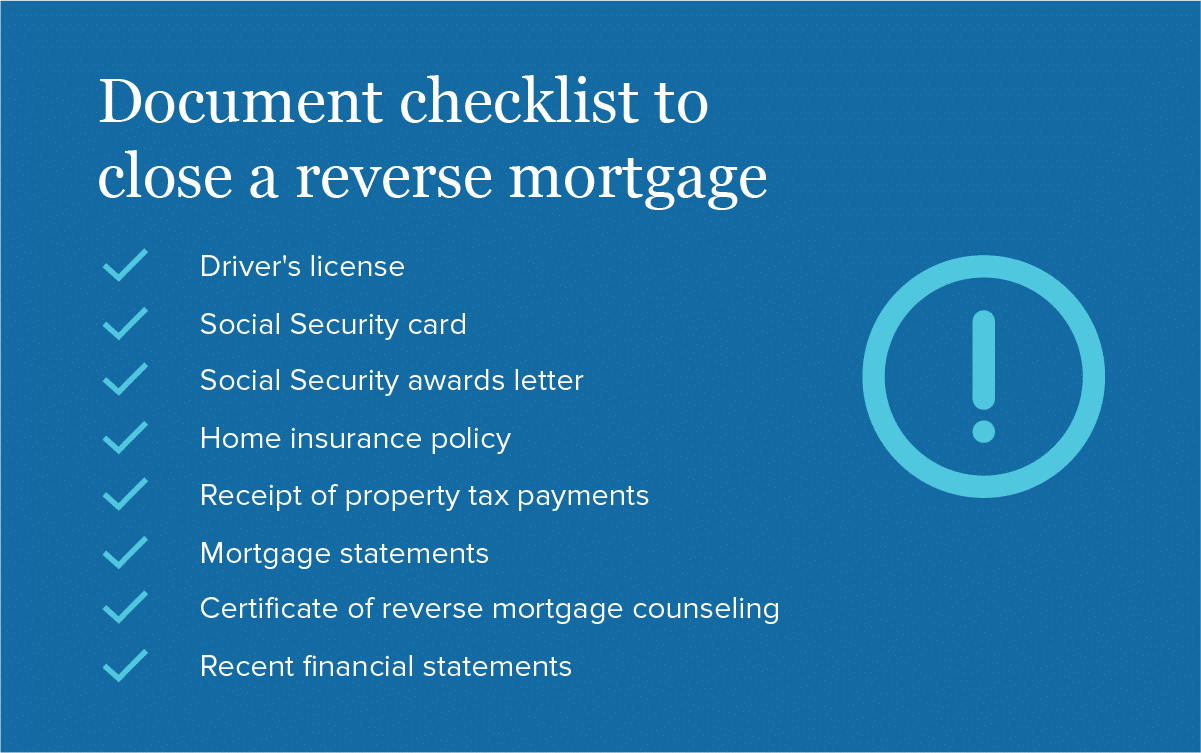 What are the closing costs for a reverse mortgage?
In addition to providing the necessary documents, there are several closing costs and fees that you'll be responsible for. Here are a few closing costs to keep in mind as you move into this phase of the reverse mortgage process: 
Origination fees

: An origination fee is issued by some lenders to process, underwrite, and close your reverse mortgage. Origination fees will equal 2% of the first $200,000 of your property's appraised value or $2,500, whichever is greater. The FHA caps origination fees at $6,000 for reverse mortgages.

Appraisal costs

: You'll need to have a property appraisal for your loan to be approved. A home appraisal can range from $200 to $800, depending on the property's location, size, and condition. 

Initial mortgage insurance premium (MIP)

: This form of mortgage insurance protects you from risks associated with the reverse mortgage process. This fee is typically 2% of the market value of your home and cannot be waived. 
You can either pay the closing costs in cash or use the money from the reverse mortgage. Keep in mind that while using the money from your loan will prevent you from having to carry cash to the closing meeting, it'll reduce the amount you'll receive. Work closely with a financial advisor to help you figure out the best course of action for you. 
Final notes 
Closing the reverse mortgage process is an exciting time for many senior homeowners. However, without the correct documents, you may not be able to close or have to take longer than expected. At GoodLife, we understand that getting a reverse mortgage can be an overwhelming and time-consuming process, which is why we aim to make it as streamlined and stress-free as possible. Our specialists will help get you to closing by ensuring you have the proper documentation to reap the benefits of a reverse mortgage. 
If you think a reverse mortgage is right for you, take a look at our reverse mortgage calculator to help you gauge how much equity you may be eligible for. Or, if you're interested in learning more about reverse mortgages, check out our reverse mortgage blogs to find the answers to your most pressing questions.