While budgeting in retirement, many prefer to spend money on the things they feel that they need and avoid digging into their budget for things that they don't. Dental insurance for seniors often falls into the latter category, as it's frequently deemed as an "unnecessary" expense. The prospect of paying a significant amount of money on dental premiums every month for a service that's used irregularly is a large deterrent dissuading many retirees from enrolling.
Unfortunately, most find out the hard way that they do need dental insurance. Your teeth may be in seemingly great health at present, but plaque can build up quickly on seniors' teeth, leading to tooth decay and gum disease.
It's important to spend your retirement income wisely, but dental plans for seniors are not something that should be skipped in an effort to save money. If you're on the fence about whether or not to enroll in a plan, here are five reasons that explain why dental insurance for seniors is important.
1. Dentin darkens teeth
Dentin is the bone-like tissue that lies underneath tooth enamel. As you age, the outer layer of your teeth gradually gets worn away and exposes the yellow-colored dentin beneath. There are some signs of aging we can't slow down, but dental insurance for seniors and regular visits to the dentist can protect the appearance of your pearly enamel with routine cleaning and polishing.
2. Medications have negative side effects
Unfortunately, as health declines with age, many seniors find themselves on prescription drugs and medications to treat their ailments. There are several types of drugs, such as those that treat Parkinson's disease, that has the common side effect of dry mouth (formally known as "xerostomia"). This isn't good for oral health, as lower saliva levels raise the risk of oral infection and tooth decay.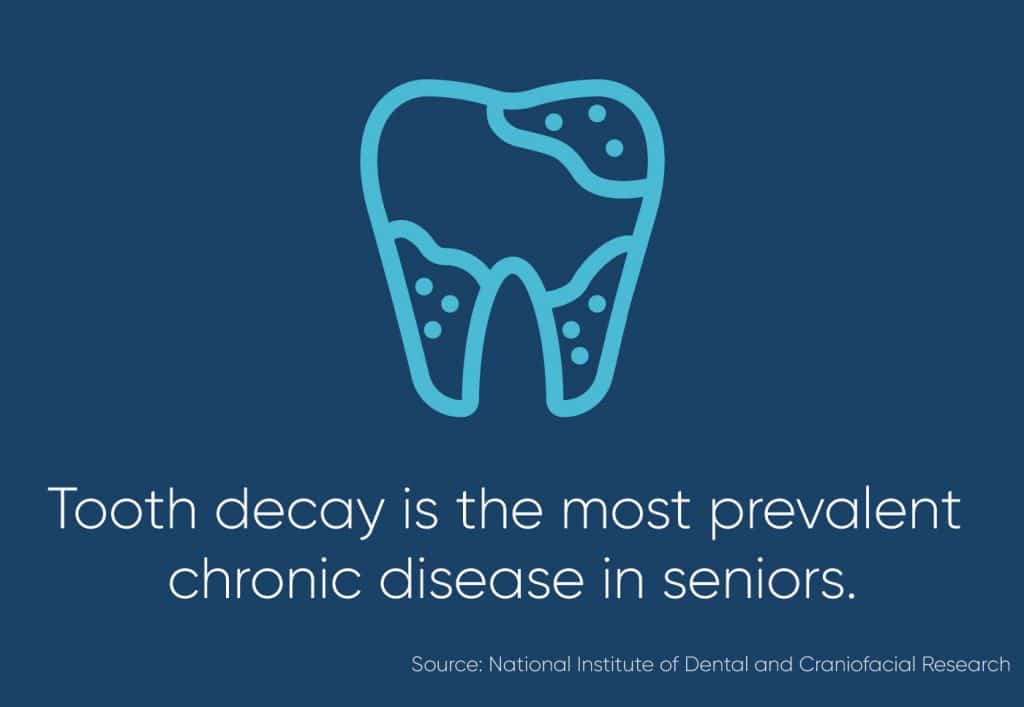 Considering that tooth decay is the most prevalent chronic disease in seniors, it's incredibly important to talk to your dentist when you've been prescribed anything that might affect your teeth or your gums. Your dentist can also help defend you against thrush, which is a fungal infection that often occurs due to a weakened immune system which can come as the result of prescription drugs.
3. Receding gums lead to root decay
Insufficient dental care causes the gums to recede from the tooth, exposing the root to acids from food. The root lacks enamel for protection, so once it's no longer concealed by the gum tissue, it has no shield of protection and becomes susceptible to serious damage and decay.
The elderly are also very susceptible to gum disease, especially if they skip regular dentist visits due to a lack of dental coverage. Gum disease is caused in many ways—including poor diet and smoking—but the leading cause is due to insufficient dental hygiene. Harmful bacteria build-up and initially causes minor bleeding when brushing or flossing, known as gingivitis.
This can then develop into periodontitis, which causes the inner layers of your gums to pull away from your teeth. Bacteria proliferate on the food lodged within these cavities and emit harmful compounds that continue to degenerate tooth and gum health further.
As the tissue breaks down, the tooth becomes loose and can eventually fall out—which is why periodontitis is the leading cause of tooth loss.
4. Lost teeth interfere with the jawbone
As root decay and gum disease progress, teeth will inevitably begin to fall out. This sounds extreme, but unfortunately, it's incredibly common among seniors. According to the CDC, one out of five adults age 65+ has lost all of their teeth.
As root decay and gum disease progress, teeth will inevitably begin to fall out. This sounds extreme, but unfortunately, it's incredibly common among seniors. According to the CDC, one out of five adults age 65+ has lost all of their teeth.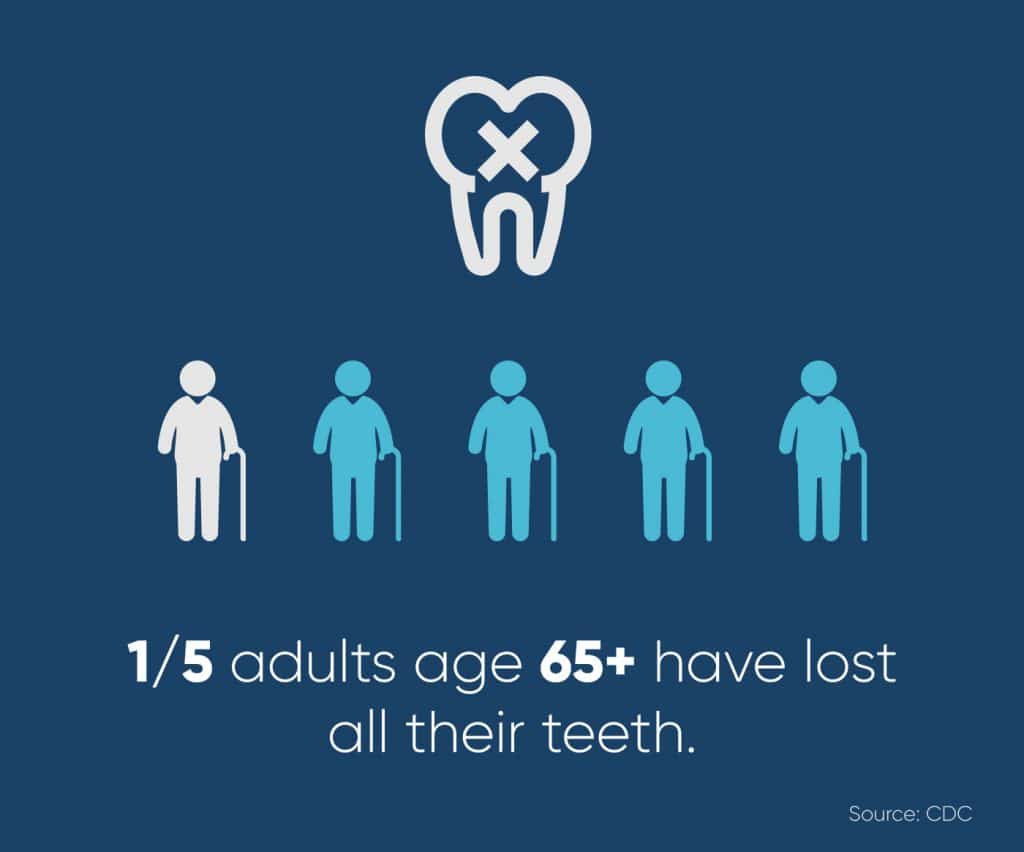 Lost teeth can lead to further complications. If they're not replaced with prosthetics—which may be difficult to afford without dental insurance for seniors—then the remaining teeth begin to drift and fill in the open spaces. As they begin to shift, they can interfere with the jawbone's natural alignment and cause:
Pain and discomfort
Uneven jaw and appearance issues
Problems with biting and chewing
Losing your teeth doesn't just affect your smile or your confidence; it can also lead to nutritional deficiencies and poor dietary practices. Alternatively, if you can afford dentures without dental coverage for seniors, you could expose yourself to denture-induced stomatitis. This condition is caused by poorly fitted dentures and is characterized as the inflammation of the gum tissue, which may be very uncomfortable.
The good news is that this can be prevented with good oral hygiene and the proactive treatment that is often covered by dental insurance.
5. Oral hygiene affects other bodily systems
It's important to understand that oral health is very much interconnected with your overall health. The National Association of Dental Plans reports that those without dental benefits report higher incidences of other illnesses. Specifically, they are:
67% more likely to have heart disease
50% more likely to have osteoporosis and
29% more likely to have diabetes
If you want to enjoy a long and healthy life, then these numbers should underscore the critical importance of dental insurance for retirees. Those without it visit the dentist less frequently and miss the opportunity for prevention, diagnosis, and early treatment. Not only could this save you money on costly dental work to repair serious damage incurred over time, but it could also save your life in the long run.
The Lack of Dental Insurance for Seniors under Medicare
Most exempt employees are offered some form of medical and dental coverage from their employer, but these benefits are no longer available in retirement. Medicare is the national health system that partially fills the gap in insurance coverage for seniors in retirement and assists with covering some basic healthcare costs. However, Medicare coverage is limited, which is why many older adults seek Medicare Supplement Insurance for additional financial assistance.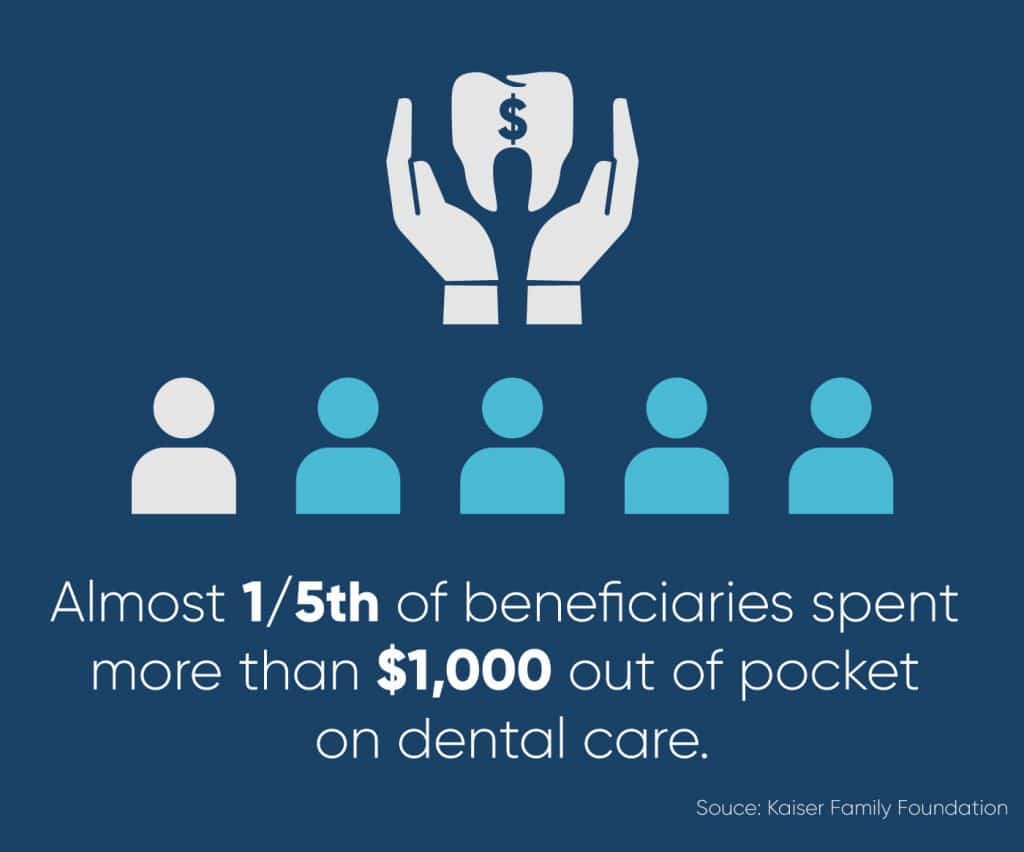 Importantly, original Medicare does not cover routine dental care or dentures. In fact, almost one-fifth of Medicare beneficiaries spent more than $1,000 on out-of-pocket dental services each year. Without dental plans for seniors included within Medicare, many older adults choose to forgo dental care altogether, the consequences of which we have discussed above. Between a darkened smile and a non-existent one, decay and gum disease, nutritional deficiencies and an overall decline in health, the importance of dental insurance for seniors become blatantly clear.
Where can I get dental insurance for seniors over 65?
It's simple: those who have access to dental benefits are more likely to receive dental care. If you are over 65, you may still be eligible to receive the same benefits from your employer. Once you retire and are no longer employed, you may be able to purchase individual dental coverage or obtain coverage through a supplemental benefit in a Medicare Advantage plan.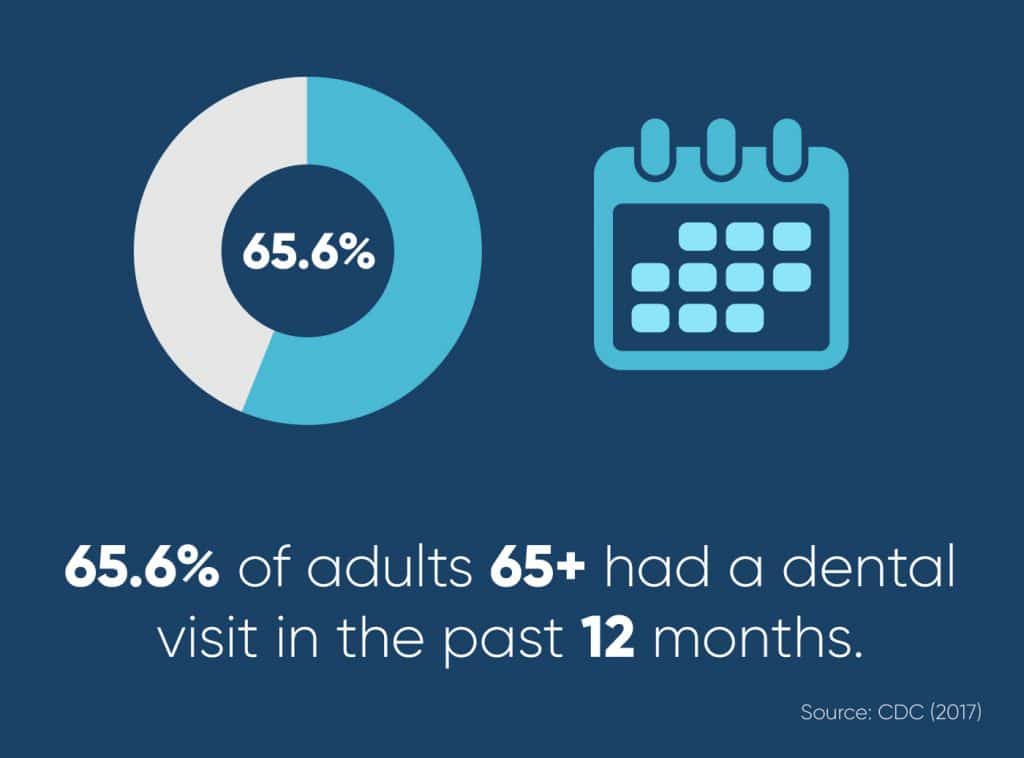 The CDC reports that 65.6% of adults 65+ had a dental visit in the past 12 months—and you should, too. If you're worried about being able to afford treatment, the U.S. Department of Health and Human Services explains different ways seniors can find low-cost dental care at HHS.gov. Some options they discuss include:
Dental schools and dental hygiene schools – The American Dental Association has teaching facilities where students conduct clinics as a way to gain experience while also providing care at a reduced cost. These clinics are closely supervised by licensed, experienced dentists or dental hygienists.


Clinical trials – When the National Institutes of Dental and Craniofacial Research (NIDCR) needs volunteers for research studies, they might provide the study participants with free or low-cost dental treatments for the specific condition they're studying.


Medicaid – Unlike Medicare, Medicaid is a state-run financial assistance program. States set their own limits regarding which benefits are available to eligible, low-income individuals, and what services are covered.
Medicaid eligibility is dependent upon income and is reserved for low earners with a demonstrated need for financial assistance. If you're struggling to make ends meet and enjoy a comfortable retirement, there are many resources that provide financial help for seniors with low income.
One such option is a reverse mortgage, which allows eligible homeowners age 62+ to tap into a portion of their home equity to convert into loan proceeds. Depending on how you choose to receive your reverse mortgage proceeds, the additional income may not impact your Medicaid eligibility.
At GoodLife, our mission is to help seniors live their retirement to the fullest—and that includes helping you receive the oral care you need using dental insurance for retirees. We can discuss the relationship between a reverse mortgage and Medicaid so that you may keep your state-sponsored benefits if you're currently enrolled.
To discuss reverse mortgage eligibility and how this form of financing might help you receive dental care, direct your questions to a GoodLife Reverse Mortgage Specialist who's happy to help.