Finding purpose after retirement is something many retirees feel concerned about after leaving their careers. With so much attention spent on financial planning for retirement, some forget to consider how they actually want to spend their post-working years. This can lead to retirement boredom, feelings of sadness or loneliness, and a lost sense of purpose or meaning in life. 
The good news is that leading a purposeful life after retirement can certainly be done; many seniors find this time period even more satisfying than life during their career. If you're wondering about finding meaning after retirement, there are a few important points to consider. Read through to learn more about how to find purpose in retirement — or, click on one of the links below to jump straight to the section you're most interested in.
Three Factors: Happiness, Meaning, and Purpose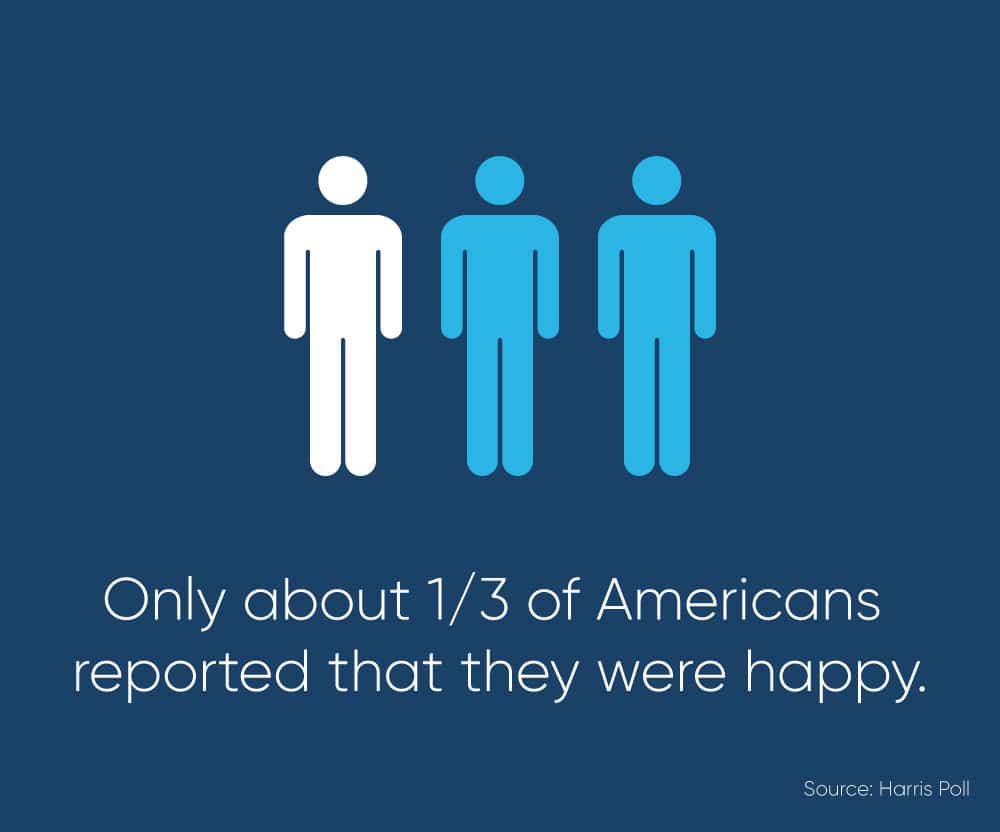 There are three factors that you should consider when thinking about how to live the best life after retirement. While they're all interrelated, considering them separately might make it easier to set clear goals.
1. The first is your level of
happiness
.
Happiness is the way you feel about your life when you sit back and reflect on the day-to-day. You probably know what happiness feels like, and most people agree that ultimately, happiness is what we are all searching for in life — however, only 1 in 3 Americans reported that they were happy when polled. Building happiness depends on a variety of factors, but it's something money can't buy. Try focusing less on yourself and taking more pleasure in the relationships with the people you love most.
2. The second factor for living the best life in retirement is
meaning.
Meaning, as many people understand it, is the internal sense that your life is lived for something else. If we're only on earth for a short while, we want to know that our time meant something and that the impact we had on others will be remembered once we are gone. Being embedded in a community is often one of the greatest sources of meaning for people, as they know their acts and their lives are recognized by others. 
3. The third factor is finding
purpose
.
Purpose is something outside you that drives you, the thing that gives you a reason to get up in the morning and make productive contributions to the world. In many cases, purpose is a necessary condition for happiness and for meaning. Most people won't find very much satisfaction in life if they don't feel they are working toward something they believe in, something that gives them a sense of drive and accomplishment. That makes finding your purpose essential to staying happy. 
There are also other components of a life well-lived: time with family, friends, your health, a comfortable environment, and travel in retirement.
When thinking about how you will live well in retirement, you might first consider what your purpose will be, then start to consider what other factors you'll need to make you happy day-to-day.
How to work toward those three factors
Once you retire, the purpose and meaning that your career formerly provided may no longer be available. One of the biggest retirement concerns is how to find ways to live a productive, fulfilled life after they no longer are tasked with their work responsibilities. This can be stressful — but it can also be a great opportunity. 
Consider the following generous, fun, and rewarding ways to achieve a sense of purpose, gain meaning, and feel happier in life after retirement. 
Volunteer

One way that many retirees find purpose in retirement is by volunteering their time and labor. There are countless causes that are in need of an extra hand and might not have the funding to hire the help that they need. 
If you're concerned with helping those who may be down on their luck, one great option is to volunteer at a homeless shelter or soup kitchen. There are many souls on the street who struggle with hunger and lack of shelter. Offering your time and assistance to these populations by cooking meals or maintaining shelter facilities can make you feel fulfilled and rewarded.
Similarly, many animals struggle to find happy homes. Animal shelters often take on volunteers to help with feeding, grooming, and even playing with the animals in their care. If you're so inclined, environmental and human rights organizations also offer volunteer opportunities in activism and outreach. Helping out with these causes may inspire the feeling that you are improving the world for the next generation.
Work part-time

Just because your official full-time career has ended doesn't mean you have to stop working entirely. Part-time retirement work can be a great way to contribute to a field that you're passionate about, feel fulfilled, and bring in some revenue to augment your retirement savings.
If you worked in a field with aspiring, young professionals, you might consider continuing on as a mentor. Many younger workers looking to get ahead may relish the opportunity to learn from a seasoned expert's experience. Plus, helping them could help you with finding your purpose. 
Some retirees who have lead long and successful careers also continue on as consultants. Consulting for newer companies in your field, or even for the company from which you left, can be a great way to feel useful and needed. Depending on the field, consultants can charge fairly hefty fees, so you'll likely be able to bring in some sizable income for your retirement expenses.
Freelancing and blogging may also be productive options. Talk to retiring professionals from your field and see if they've managed to continue on in a consulting, advisory, or mentoring capacity after their 9 to 5 days have ended. 
Get involved with your church or neighborhood group
Making contributions to a community is one of the most significant ways that people can find meaning. If you are already involved with an organization, such as a church group, community garden, or neighborhood association, consider making more active contributions or applying to be a board member.
The small communities in life tend to be the ones that have the biggest impact; sticking with the same people through thick and thin can lead to a strong sense of loyalty, and with it, purpose and meaning. In fact, most people who live longer lives have a strong sense of community. Maintaining your social circle is essential to staying happy and finding your purpose in retirement. 
Exercise
Once you've retired, you will have plenty of time to meet the fitness goals you'd always wanted to during your career. Exercise can take many forms, so don't worry if you have an illness or disability that prevents you from certain activities. 
Whether you jog in the mornings, take up hiking, start biking to the grocery store, or swimming at your local rec center, a little exercise goes a long way. You'll feel healthier, which is essential for keeping your spirits up, and you'll be given a stronger sense of fulfillment for meeting your fitness goal. Plus, exercising can help reduce the risk of age-related ailments, so you'll be doing your body a favor in the process of finding your purpose.
Getting Started with Reverse Mortgages

If you're looking to get started with a reverse mortgage, these articles can help guide you through all aspects of the process.

Guide to HECM Loan                                      Reverse Mortgage Limits

Non-Borrowing Spouse Protections              Jumbo Reverse Mortgages
Give time to your hobbies 
Retirement offers the opportunity to put serious time into hobbies you could only dabble in during your career. Picking up a new musical instrument or taking a class at a local community college are also great options to add meaning and purpose to your days. Learning new skills and sharing them with others can be an excellent way to give back, too. You could teach your grandkids to paint or play in the local band during summer park concerts. Hobbies can be one of the most exciting and engaging parts of retirement.
Focus on what makes you happy
Life after retirement is all about rewarding yourself for decades of hard work during your career. The last thing you want is to worry about how you're going to fund your retirement. That means developing a reliable cash-flow is key.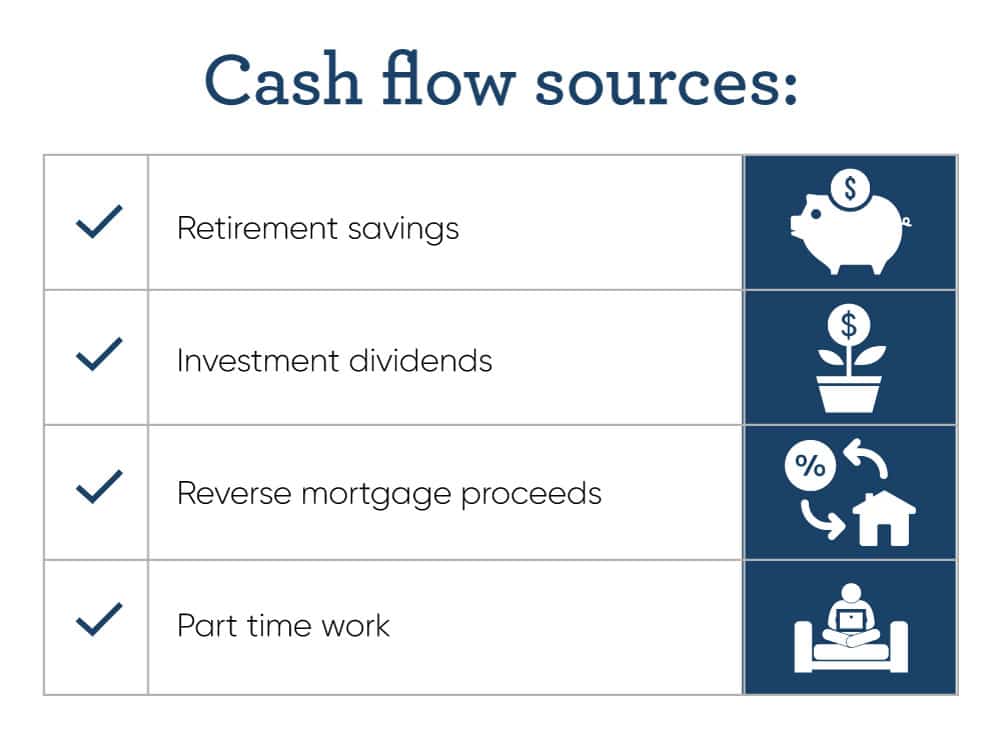 It's wise to save for retirement as early as possible. Dividends from your investment portfolio in addition to your Social Security benefits can also help you afford life's finer things in retirement. However, if you find yourself struggling to get by on your personal savings and fixed income, then you might consider how a reverse mortgage can help you live The GoodLife in Retirement.
If you'd like to learn more about the reverse mortgage process and reverse mortgage qualifications, reach out with any questions you may have. Our Reverse Mortgage Specialists will be happy to go over this form of financing and how you may be able to use it to improve your financial circumstances and quality of life in retirement.