If you feel like you could use additional cash-flow during retirement, a reverse mortgage might be able to help. Also known as a home equity conversion mortgage (HECM), this alternative form of financing is available to eligible homeowners over the age of 62 with sizeable equity in their home.
The HECM program, overseen by the U.S. Department of Housing and Urban Development (HUD) alongside the Federal Housing Administration (FHA), allows seniors to convert a portion of their home equity into usable cash in the form of loan proceeds.
Together, the two regulatory agencies provide a number of reverse mortgage guidelines for these government-backed loans, which are designed to protect both borrowers and lenders. One stipulation is the mandatory FHA appraisal requirement during the reverse mortgage application process.
Today's post dives deep into the FHA appraisal guidelines on reverse mortgages to provide you with a better understanding of the process. Learn more by clicking on one of the links below, or direct your questions to a GoodLife Reverse Mortgage Specialist who will be happy to help.
Why does a reverse mortgage require an appraisal?
A reverse mortgage appraisal determines the property's eligibility and estimated worth in order to calculate the available size of a reverse mortgage loan. To better explain how appraisals are used, you should first understand how a reverse mortgage works.
Essentially, the HECM program allows seniors to turn a portion of the wealth they've earned in home equity into loan proceeds to be used as disposable cash. So long as the homeowner meets the HUD eligibility requirements, a lender will determine a borrowing limit (or "principal limit), which establishes the maximum value of an applicant's loan.
The loan limit depends on several factors, including the estimated value of the home's current worth per the results of the FHA appraisal, in addition to the age of the youngest borrower. Borrowers can choose to receive their loan proceeds as either a line of credit, monthly disbursement, partial sum, or lump sum, for which the property is used as collateral.
HECM borrowers are not required to make payments on the loan until it reaches a maturity event. Because HECMs are government-backed, non-recourse loans, it means that once the loan becomes due and payable, borrowers (or their surviving heirs) will never be forced to pay more than the outstanding loan balance or 95% of the appraised property value—whichever is less.
If the loan balance is higher than the property value, the government will cover the remaining portion to offset the lender's loss, which stresses the need for accurate FHA appraisals. The estimate confirms the home is worth the amount that the loan is guaranteeing.
FHA Changes

Per the latest FHA guidelines, appraisers are required to:
Gain access to the entire attic
Test functionality of appliances
Report marketability of homes in Airplane Zones

Consider

an income appraisal approach (i.e. highly priced homes in low-income areas)
The FHA-insured HECM program was written into law in 1988, but multiple amendments have been made since that time with the goal of increasing consumer protection. You can read more information about the 2020 reverse mortgage changes in our resource center.
Which properties are eligible for a reverse mortgage?
According to reverse mortgage appraisal requirements, eligible properties for FHA loans include:
Single-family homes (one to four-unit properties)
Manufactured homes (built after June 1976)
Condominiums (must be FHA approved)
Properties in planned unit developments (PUDs)
Townhouses, and

Properties

held in a living trust
HUD may require a second FHA appraisal on any type of property, but unusual properties (such as manufactured homes and multifamily units) are more likely to be flagged.
What do FHA appraisers look for?
FHA appraisal guidelines have three components used to determine whether a property is eligible for financing, and if so, for how much:
Site analysis: easements, encroachments, adjacent areas, views from property, type of topography, suitability of soil, etc.
Property analysis: evaluation of physical condition, assesses longevity and livability of property
Property valuation: documentation of necessary repairs, estimates market value
When determining the value of a home, appraisers will consider the property's square footage, location, layout, number of bedrooms and bathrooms, quality of construction, functional appeal, and pertinent upgrades. Recent sales (within the last six months) of comparable homes in the area also help establish a property's value.
During their official inspection, appraisers will complete an FHA appraisal checklist called the Uniform Residential Appraisal Report (URAR)—unless they are completing a report for reverse mortgage on a condominium unit—to evaluate the safety, security, and soundness of the home, ensure it meets the FHA minimum property standards. A Valuation Conditions (VC) form is used to document any repairs required for the loan to be guaranteed.
FHA Minimum Property Standards
To avoid reverse mortgage appraisal problems, you should be sure that your home is up to living standards. Generally, FHA minimum property standards are concerned with anything that negatively affects the following:
Health and safety of the occupants
Livability and marketability of the home
Physical condition of the property
The FHA does not require repair of minor cosmetic defects, deferred maintenance, and normal wear and tear if they do not affect the safety of the home. However, if mandatory repairs total more than 30% of the maximum claim value, it must be sent to HUD for further review.

What are the FHA appraisal requirements?
The 2020 FHA appraisals guidelines establish the following requirements:
All loans insured through the FHA must be appraised by a licensed appraiser approved by HUD.
The appraiser must visually inspect the interior and exterior to complete the appraisal checklist on the VC form.
They must photograph the front, back, and sides of the property, noting any improvements made that increase the value.

Any

comparable sale transaction being used to support the appraisal must also be photographed.
A copy of a street map showing the location of the property and each comparable sale.
FHA Appraisal Checklist
There are many items on the FHA appraisal checklist you should tend to if you're considering the reverse mortgage application process. We've compiled the top concerns a HECM appraiser will look for when evaluating your home; download the FHA appraisal checklist and confirm that your property is up to standard before its assessment.
Roofing Appraisal
Attic contains insulation and ventilation
No observable evidence of significant…

Leaks or water damage
Previous fire damage
Structural problems
Exposed or frayed wiring
Health or safety deficiencies

Roof is structurally sound and expected to last at least two years
Moisture is prevented from entering
Foundation Appraisal
Lot has adequate grading to prevent moisture from entering basement/foundation
Crawl space contains ventilation and insulation (if applicable)
Basement or crawl space displays no evidence of dampness
Support beams are intact, and foundation is in good condition
No underground storage tanks
Soil is free of contaminants
Water Heater Appraisal
Meets local building codes
California homeowners have earthquake straps installed
Water supply is sufficient
Both hot and cold water are available
Electrical & Heating Appraisal
All utilities are turned on during appraisal
Electrical outlets and switches are operational
No presence of exposed or frayed wiring
HVAC system is in proper working order
Heating system is sufficient to create "healthful and comfortable living conditions"
Room Appraisal
All bedrooms have egress to the exterior for fire safety
Exterior doors properly open and close
Walls display no holes or cracks
Windows can open, close, and lock
Kitchen appliances, including a functional stove, are present
Bathroom Appraisal
A working sink, shower, and toilet are present
Sewage removal is safe and sanitary
Septic system is functional (if present)
No major plumbing problems or leaks exist
Hazard & Nuisance Appraisal
Doors are not blocked
Windows are intact, not broken
Steps and stairways must have handrails
Clear of any lead-based paint
Free of noxious odors
No nuisance present (including excessive noise due to airplanes or heavy vehicular traffic)
No hazards present (such as close proximity to hazardous waste sites or high-voltage powerlines)
Structural Appraisal
No evidence of active termite or pest infestation
No rotting exteriors, including walls and windowsills, is present
Swimming pool is filled and pump is operable
Fencing is neither leaning nor broken
Paint is not chipped or otherwise defective
No presence of asbestos requiring additional attention
No presence of defective conditions (leaks, decay, poor construction, etc.)
Disclaimer: This FHA appraisal checklist contains some of the most frequently inspected items, but it is not exhaustive and does not guarantee Minimum Property Standards.
What

happens if the appraiser marks something for "further repair"?
An item marked for "further repair" means that it must be fixed or inspected further. Meeting the criteria for Minimum Property Standards and the value of the loan is conditional based on the required repairs. Some conditions may be easily fixable for conditional approval, but if damage is significant, the lender may reject the property or HUD may require additional review.
What if the FHA appraisal is low?
Homeowners should take steps to ensure their reverse mortgage appraisal is accurate. The appraiser should be notified of all improvements made to the property that increase its value, as well as factors such as bankruptcy or divorce that may have forced the sale of a neighboring home at a depressed level.
FHA appraisers must be approved by HUD, but if an appraisal management company is involved, it may be possible to request a certified appraiser located in the market area of the home. Certified appraisers have higher education and training than licensed appraisers, with greater experience in the local area, so their valuation may be more accurate.
You may have the opportunity to appeal an appraisal you believe is off base, but only a very small percentage of appealed appraisals result in a new valuation. Once the appraisal process is complete—which typically requires one to two weeks—the valuation is good for 120 days. Once it expires, you may be able restart the loan application and obtain a new appraisal but will be required to repay the fee.
To minimize costs, streamline approval, and prevent low appraisals, it may be wise for homeowners to make proactive upgrades that increase the property value.
How to Increase Your Home Value for Appraisal
Below is a list of home improvements that may raise the value of a reverse mortgage appraisal:
Modernize outdated bathrooms and/or kitchen
Prioritize new appliances, if necessary
Upgrade home's electrical, heating, and/or plumbing systems
Update the closets for function and appearance
Clean interior and repair any damages
Replace broken lights, fans, and fixtures
Steam carpets and polish wood
Touch up paint on walls, doors, and molding
Install smoke detectors in all bedrooms
Install carbon monoxide detector in main living area
Ensure exterior paint is in good condition, free of cracks

Landscape

lawn and trim trees
What percentage of home value can you get with a reverse mortgage?
As of January 2020, HUD increased the maximum claim amount (MCA) of HECM loans to $765,600. This means that although your property may be valued higher than that number after the reverse mortgage appraisal, $765,600 is the maximum amount of equity that may be considered for a HECM loan.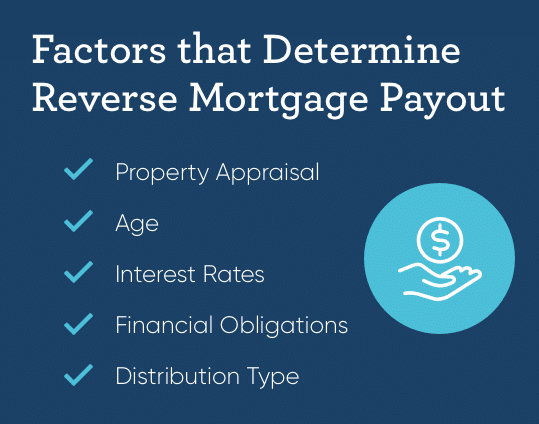 Bear in mind that even though the FHA will insure up to the reverse mortgage limit, it does not necessarily follow that a borrower will be eligible for that size loan. Apart from the property value, additional factors that impact the HECM borrowing limit and loan proceeds include:
Age of the Youngest Borrower
Reverse mortgages are partially calculated by the expected length of the loan. Generally speaking, the older the borrower, the more he or she will be able to take out.
Typically, the lower the reverse mortgage interest rate, the more money borrowers will be able to receive and vice versa.
Outstanding mortgage balances, property taxes, and maintenance costs may lower a borrower's available proceeds, as these obligations must be settled before the remaining funds can be distributed.
To estimate your potential amount of proceeds, use our free reverse mortgage calculator.
When should I get my home appraised during the reverse mortgage application process?
Your Loan Officer will help you schedule your reverse mortgage appraisal after you've completed the mandatory, HUD-approved HECM counseling. Unless otherwise extended under special circumstances, FHA appraisals remain valid for 120 days in order to most accurately represent the recent values in the housing market.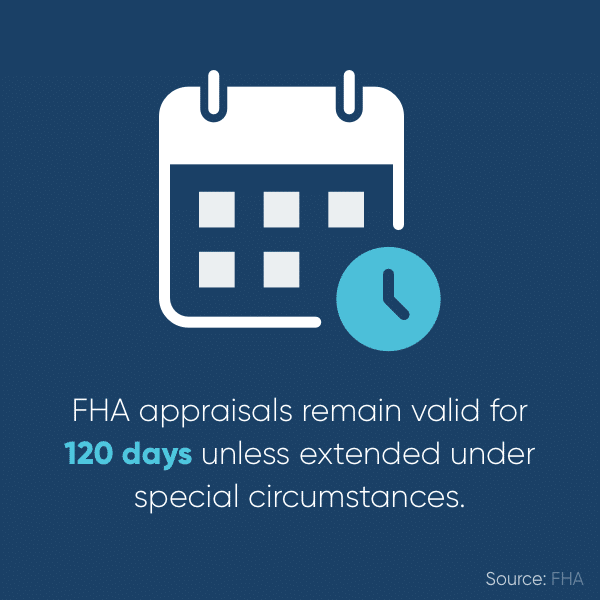 How much does a reverse mortgage appraisal cost?
The average FHA appraisal costs homeowners about $500, but they may be more or less expensive depending on several variables.
Main Factors that Affect the Cost of an FHA Appraisal
Type of property
Location of property
Condition of property
Size and square footage
How much land is included
The FHA appraisal cost is one of several reverse mortgage closing costs. Additional fees borrowers may pay include:
HECM Counseling Fee: the cost of mandatory HECM counseling is typically around $125, according to gov
Origination Fees: cover a lender's operating costs when processing, underwriting, and closing a HECM loan
Mortgage Insurance Premium: the upfront 2% MIP provides a measure of protection for both borrowers and lenders
Third Party Closing Costs: these may include, but are not limited to, fees for document preparation, wiring, title transfer, credit report, and recording
Conclusion
At GoodLife, we understand that home is where the heart is. Our team of Reverse Mortgage Specialists has helpful advice to share so you can enjoy a smooth, streamlined, and stress-free application process.
If you'd like to learn more about how reverse mortgage benefits may be able to improve your finances, don't hesitate to contact us with any questions you have. We look forward to discussing how we may be able to help you achieve The GoodLife in Retirement that you deserve.
Sources
AARP | Housing Wire | NRMLA