Wondering what a reverse home mortgage could solve? You're not alone! We're asked that question all the time at GoodLife, so today we will discuss the different ways you may be able to benefit from this form of alternative financing. Here we'll talk about 15 reverse mortgage benefits that enhance the lives of retirees across the country and how this type of loan could improve your circumstances, too. This is our list of benefits:
Supplement fixed retirement income
Postpone using other sources of retirement income
Help homeowners stay at home and age independently
Provide financial help to family members
End monthly mortgage payments
Pay off non-mortgage debt
Pay for ongoing health or disability expenses
Finance home improvements
 Afford large purchases
 Lock in home equity
 Low risk of default
 Federally insured
 Flexible financing structure
 No monthly payments
 No inherited debt
After this read, you'll know how a reverse mortgage works and how it could improve your post-retirement years. To get started, click on a section that interests you below, or read end-to-end to learn about the many different ways a reverse mortgage might solve your financial needs.
Reverse Home Mortgages – A Brief Overview
Sometimes known as a home equity conversion mortgage (HECM), a reverse mortgage is a type of loan available to senior homeowners (age 62+) which uses the equity of a home as collateral. Many borrowers use reverse mortgages as a retirement planning tool, since they allow homeowners to convert their home equity into cash in the form of loan proceeds without the burden of monthly payments, so long as the borrower(s):
Continue to live in the home as a primary residence
Pay property taxes and insurance
Maintain the home according to Federal Housing Administration (FHA) standards
Until the last borrower passes away or moves out of the property
With a HECM loan, the equity you may use is dependent on the value of the home, the age of the youngest borrower, and current reverse mortgage interest rates. The loan is government-backed and insured by the FHA as "nonrecourse", meaning that borrowers nor their heirs will ever owe more than the loan balance or the value of the property, whichever is less—even if the real estate market "sinks". Furthermore, a lender cannot seek debt repayment through other assets aside from the home. Find out how much you qualify for with our free reverse mortgage calculator.
If you're not sure how a reverse mortgage works, helpful GoodLife Reverse Mortgage Specialists are available to answer any questions you may have.
Why Consider a Reverse Home Mortgage?
Looking at the reverse mortgage basics, HECM loans are often seen as attractive financing method. Several noteworthy benefits offered by this type of loan structure include:
Homeowners have the ability to tap into the equity of their home while still retaining ownership of the property.
Borrowers can decide when and how their funds are distributed (line of credit, lump sum, tenure, term).
Borrowers may use their funds to finance a wide variety of expenses.
Unlike traditional mortgages, a reverse home mortgage does not impose the burden of monthly payments, which may be an especially attractive feature for borrowers on a fixed income.
Interest accrues on the principal balance of the loan, but debt repayment is not due until the loan is due (typically when the borrower pass away) or the borrower defaults.
Heirs may either choose to sell the home to repay the loan or to keep the home and pay off the reverse mortgage. If they sell the home, they will not be required to pay more than the sale price of the home; government insurance will pay for any shortfall, so long as the property sells for at least 95 percent of the current appraised value. If they choose to pay the reverse mortgage to keep the home, they will only be required to pay 95 percent of the current appraised value or the outstanding loan balance, whichever is less.
If you consider the various benefits of a HECM, it may be a viable tool to accomplish various financial goals — especially for homeowners who plan to age independently.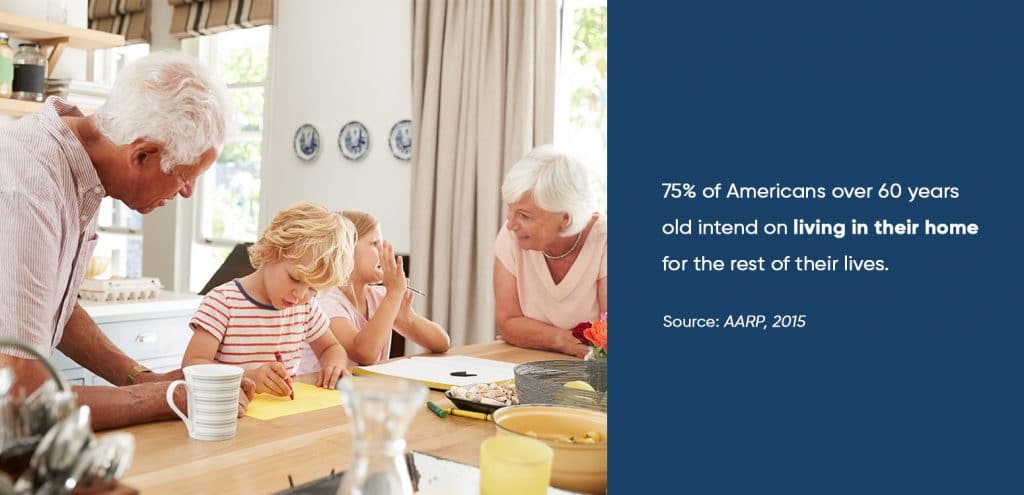 According to a recent study (2015) conducted by the National Council on Aging (NCOA), 75 percent of Americans over 60 years old intend on living in their homes for the rest of their lives. For many, home is where lifelong memories are made, where children are raised, and where retirement years can be enjoyed most comfortably.
In fact, the NCOA survey indicates that 58 percent of adults have not changed residences in more than 20 years. To those homeowners, the thought of relocating may seem impossible. A reverse mortgage loan could provide the necessary funds for home modifications, which can enable seniors to stay at home and age independently. If you are interested in a reverse mortgage, you can start your application below.
In addition to living out retirement years in the comfort of one's own home, there are many reverse mortgage benefits that are worth your consideration. In 2016, Ohio State University (OSU), with funding from the U.S. Department of Housing and Urban Development (HUD) and The MacArthur Foundation, analyzed the use of reverse mortgages for the preservation of independent living. They asked participants to select all motivations that may apply in order to determine the primary reasons for considering a reverse mortgage.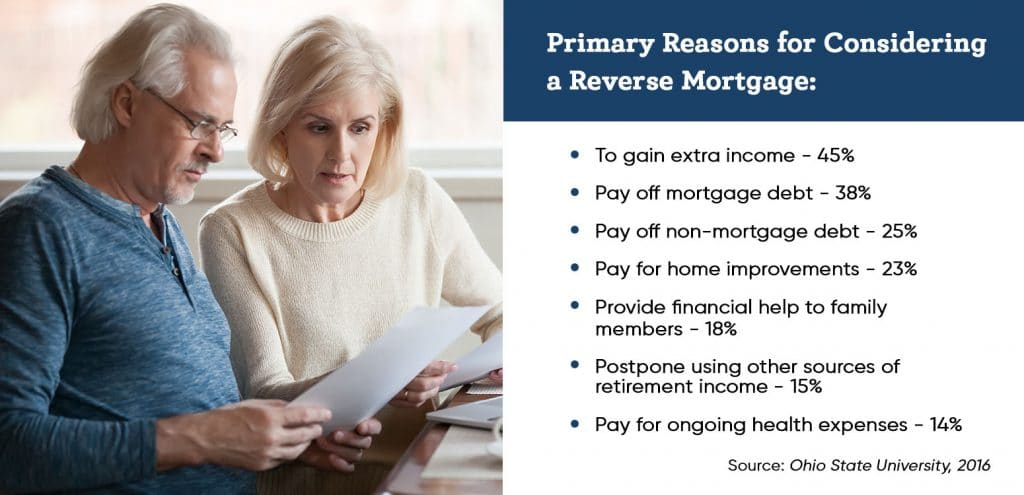 Extra income was reported to be the number one consideration regarding reverse mortgage benefits. HECM borrowers may use the equity in their home to supplement their fixed retirement income for a wide variety of purposes, whether they'd like to travel more or explore new hobbies. Many retirees find a surplus of spare time on their hands, and a reverse mortgage can benefit by providing extra income to enjoy their new free time to the fullest.
While some may use HECM funds to enjoy the present, other reverse mortgage benefits look towards the future. 10 percent of survey participants selected a reverse mortgage as a means to lock in home equity in case of a declining real estate market while others were planning to afford a new purchase such as a car.
The OSU project went a step further by asking participants about their current satisfaction in different aspects of life three to nine years after receiving counseling for a reverse mortgage. According to their findings, on average, reverse mortgage borrowers are significantly more satisfied with particular areas of their lives than non-borrowers, including:
Daily life and leisure activities
Family life and life overall
Condition of inhabitance and city/town of inhabitance
Present financial situation
The OSU research project illustrated a number of reasons why a senior homeowner might consider the benefits of a reverse mortgage.
Benefits of a Reverse Mortgage Loan – Borrower's Success Stories
According to several borrowers' stories, over one million American families have taken advantage of reverse mortgage benefits to improve their lives since the program began in 1989. In their guide to reverse mortgages, NRMLA shares several borrowers' stories and how a HECM was used successfully as a financial planning tool. Among several touching testimonies comes the story of Henry, age 76, and Lily, age 73. The couple felt that they would have to sell their home if Henry retired, and leaving was the last thing they wanted to do. A reverse mortgage allowed him to finally retire while enabling the pair of high school sweethearts to continue living in a home that brought them and their family many happy memories.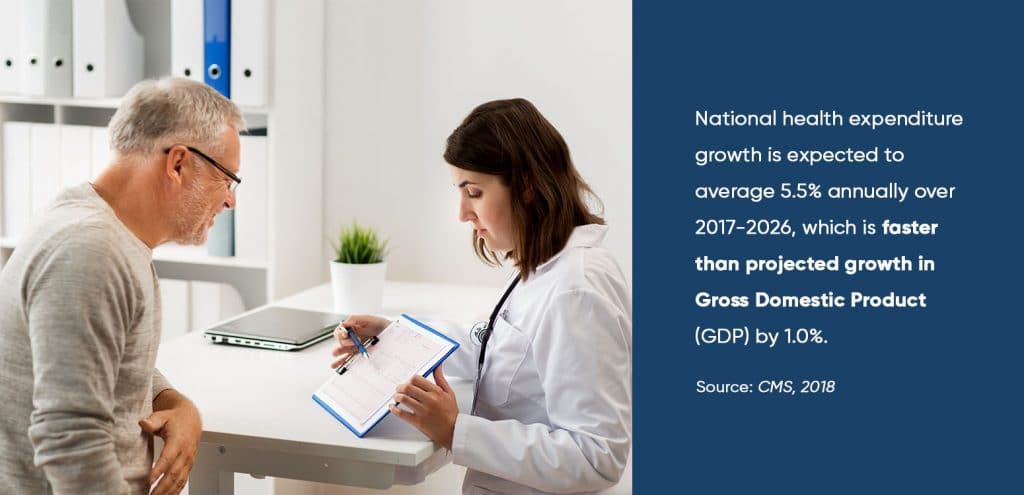 Other borrowers' stories provided by NRMLA addressed how reverse mortgage benefits homeowners' healthcare costs and paying off medical bills. In Medicare and Medicaid services, national health expenditure growth is expected to average 5.5 percent annually over 2016-2026, which is faster than projected growth in Growth Domestic Product (GPD) by one percentage point.
This means that healthcare costs are increasing faster than the rate of inflation. Retirees on a fixed income may have trouble affording their medical costs with just their pension and Social Security alone, in which case a reverse mortgage may provide the means to ensuring treatment necessary for living a long and happy life.
Getting Started with Reverse Mortgages

If you're looking to get started with a reverse mortgage, these articles can help guide you through all aspects of the process.

Guide to HECM Loan                                      Reverse Mortgage Limits

Non-Borrowing Spouse Protections              Jumbo Reverse Mortgages
Risks of Reverse Mortgages
Many potential borrowers are skeptical of reverse mortgages out of fear of defaulting on their loan. While it's true that every major financial decision deserves careful deliberation, it's worth noting that the government made recent updates to the HECM program designed to reduce the rate of borrower defaults.
A 2016 article published by the Center of Retirement Research at Boston College reports that a combination of policy changes from 2013 to 2015 are projected to cut the number of defaults on new reverse mortgages by 50%.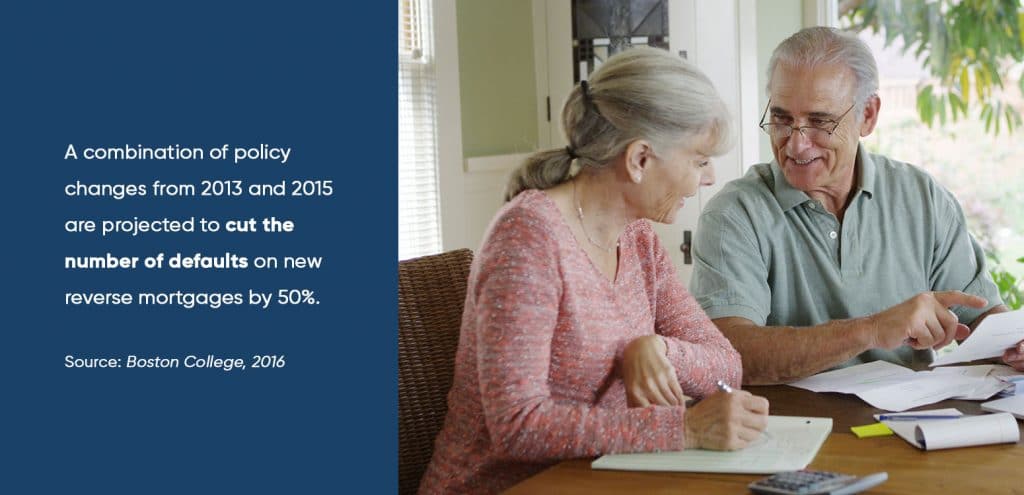 The 2013 HUD policy change restricts the amount that a borrower can withdraw as a lump sum within the first year of the loan to 60 percent of the initial principal limit. A higher percentage may be withdrawn if needed to pay off mandatory obligations (such as existing mortgages), but the 60 percent limitation is designed to make HECM funds last longer, promote better money management, and introduce an opportunity for increased funds through lines of credit.
The second policy change referenced by Boston College was implemented by HUD in April 2015 in order to make the HECM an even safer loan product and protect the senior Americans interested in reverse mortgage benefits. In the past, income and credit history were not required for reverse mortgage approval, but the new change mandates a financial assessment to evaluate borrowers with documentation such as:
Income verification
Asset verification
Property change verification
Credit history documentation
Calculations for life expectancy set-asides
If an at-risk borrower demonstrates difficulty in their willingness or ability to meet their financial obligations, lenders are required to allocate funds to a "Life Expectancy Set-Aside" in order to protect against default.
Who are Reverse Home Mortgages for?
Although HUD has taken steps to reduce the risk of defaulting on a reverse mortgage, it's worth noting that this type of loan may not be for everyone. Generally speaking, a good HECM candidate is someone over the age of 62 who:
Can afford their living expenses, property taxes, and insurance
Plans to remain in their home for a long time
Only shares their home with a co-borrower or eligible spouse
Wants to access the equity in their home to supplement their income in retirement
All homeowners considering the benefits of a reverse mortgage will receive mandatory counseling to help determine whether a HECM is the right tool to achieve their unique financial goals. If the potential borrower is a good candidate, the next step is to assess the eligibility of the home. Only eligible properties may qualify for a HECM according to reverse mortgage guidelines; in most cases, the home must be a:
Single-unit family home
Two-to-four unit owner-occupied dwelling or townhouse
Approved condominium
The home must also meet the FHA minimum property standards, as established by HUD. Property criteria for a reverse home mortgage include:
Acceptable plot layout
Absence of hazards
Proper home design
Acceptable building materials
If you have the right borrower profile and an eligible home, a reverse mortgage could be a great financial planning tool for retirement. To recap, here are 15 different reasons to consider a reverse mortgage in retirement:
Supplement fixed retirement income
Postpone using other sources of retirement income
Help homeowners stay at home and age independently
Provide financial help to family members
End monthly mortgage payments
Pay off non-mortgage debt
Pay for ongoing health or disability expenses
Finance home improvements
Afford large purchases
 Lock in home equity
Low risk of default
 Federally insured
 Flexible financing structure
 No monthly payments
 No inherited debt
There are so many creative ways retirees can use reverse mortgage benefits to their advantage. If you think a HECM loan might be in your best interest, discuss your goals with a GoodLife Reverse Mortgage Specialist who can assist you in the reverse mortgage application process. Our team is dedicated to your peace of mind and financial success in retirement, so contact us today to see how we may be able to help or download our guide below.