For many Americans, manufactured or mobile homes can be an effective and affordable housing solution and alternative to renting. And for many Americans looking forward to retirement and considering funding options, this may raise the question: can you get a reverse mortgage on a mobile home?
The short answer is: yes, but it depends. A reverse mortgage (or Home Equity Conversion Mortgage, HECM) is a form of retirement financing that allows homeowners to tap into the equity they've built in their property. They can use this equity to receive monthly disbursements, a lump sum, or a line of credit — all as a way to add to their retirement income portfolio. 
KEY TAKEAWAYS
A reverse mortgage is an innovative financial tool that allows homeowners to tap into home equity and use it as a line of funding for retirement expenses.

Millions of Americans live in mobile homes as an affordable housing solution, so it's important to know if reverse mortgage funding is applicable to that form of housing. 

The good news is that, in many cases, mobile or manufactured homeowners may be eligible for reverse mortgages.

Homes must be built after 1976 and adhere to the full set of FHA manufactured housing standards. 

If you think that a reverse mortgage may be a helpful solution for your financial situation, you can reach out to a Goodlife Reverse Mortgage Specialist.
In this post, we'll be tackling the question of whether a reverse mortgage on a mobile home is possible, and what conditions may apply. Given that as many as 17.5 million Americans currently live in mobile homes, and this form of housing is increasingly becoming a solution for affordable housing, it's important to know, can you do a reverse mortgage on a mobile home? Read on to understand the details that can help answer this question. 

Can You Get a Reverse Mortgage on a Mobile Home?
Yes, you may be able to get a reverse mortgage on a mobile home. However, there are important qualifications that may change whether you are eligible. The most important condition is that your manufactured home must be built after 1976, which is when the Manufactured Home Construction and Safety Standards Act was passed. 
This act standardized the construction of mobile homes, ensuring a higher degree of safety. In order to satisfy FHA and HUD standards for reverse mortgage eligibility, mobile homes must have been built after that act was passed. 

How Does a Reverse Mortgage Work?
A reverse mortgage allows homeowners to access their home equity and enhance their monthly cash flow without selling or vacating the property. Reverse mortgages, also known as home equity conversion mortgages (HECM), are used to turn a portion of your home equity into cash in the form of tax-free loan disbursements.
The money you get from a reverse mortgage can be used for a variety of retirement expenses, including: 
Supplementing fixed income in retirement

Deferring Social Security benefits

Paying for medical bills and expenses

Helping to afford the cost of living

Financing home renovations

Exploring travel, leisure, and hobbies
For a detailed dive into reverse mortgages and your finances, view our comprehensive downloadable reverse mortgage guide. You can also contact a friendly GoodLife Specialist who will gladly answer all of your questions. For more details on the HECM program, what it takes to qualify, and the benefits you may be able to expect from a reverse mortgage, read our full HECM guide blog post.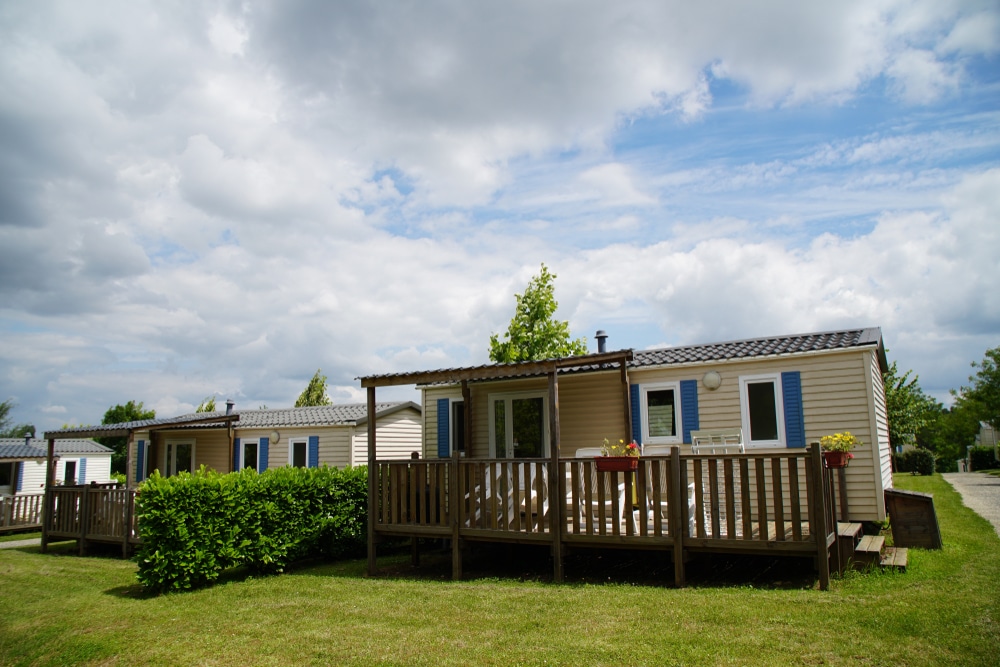 HUD and FHA Eligibility Requirements
The HUD and FHA have a number of requirements that mobile homes must meet in order to be eligible for financing through government-backed programs. These requirements include:
The structure must be at least 400 square feet

It must be built and remain on a permanent chassis

The home must be designed to be used as a dwelling with a permanent foundation, and must be built to FHA criteria.

The home must be built for occupancy as a primary residence by a single family.  

The site must be served by permanent water and sewer facilities approved by the local municipal authority, if available at the site.

An all-weather roadway must serve the site. 

The property must be taxed as real estate.

Any tow hitch must be removed for over a year.

The finished grade level under the house is not below the 100-year flood level in any way. 

During transit, structural integrity must have been maintained, as well as adequate anchoring, support, and stability.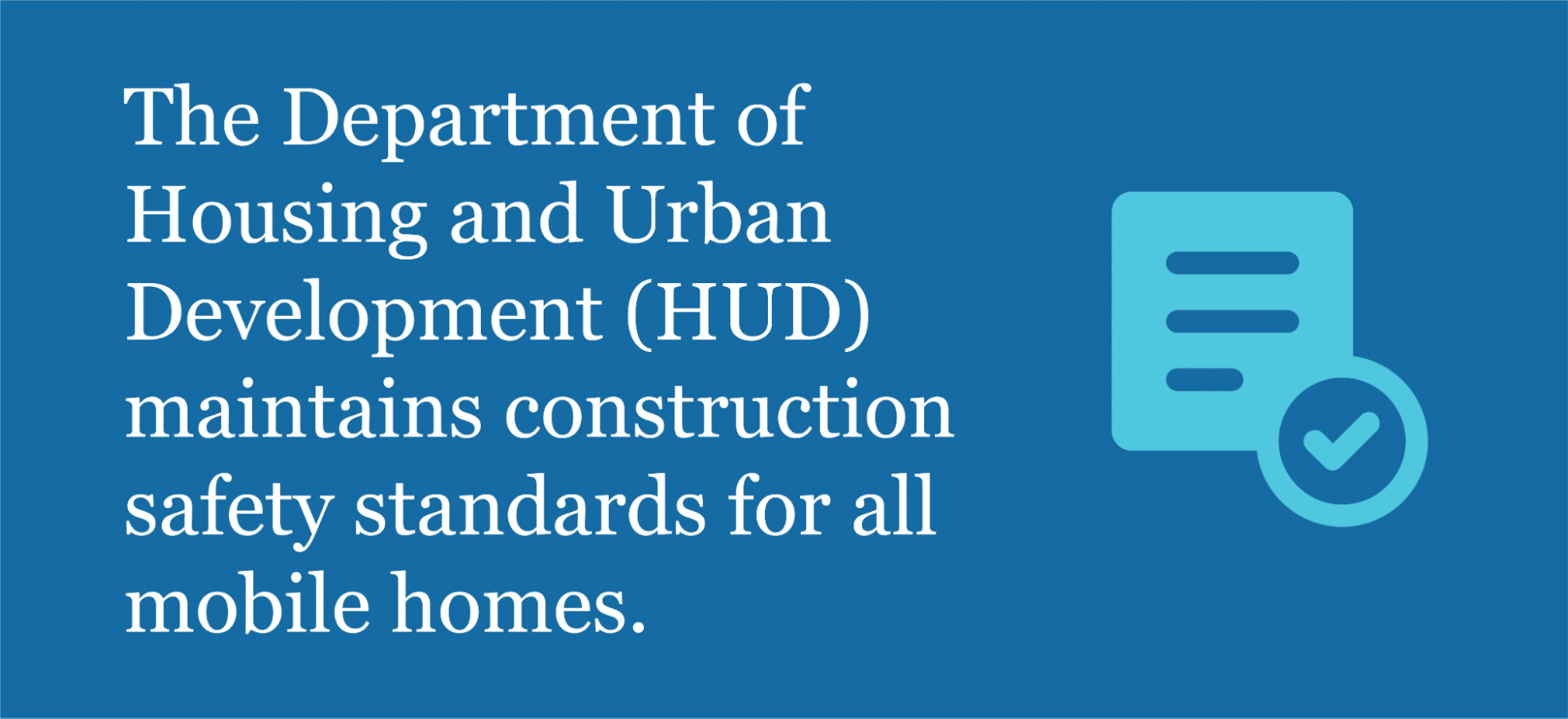 In addition to mobile-home specific eligibility requirements, it's important to be aware of the more general HECM eligibility requirements. The requirements for reverse mortgages are the same all around the country. That's because the government backs the HECM program, which is supervised by the US Department of Housing and Urban Development (HUD) and guaranteed by the Federal Housing Administration (FHA).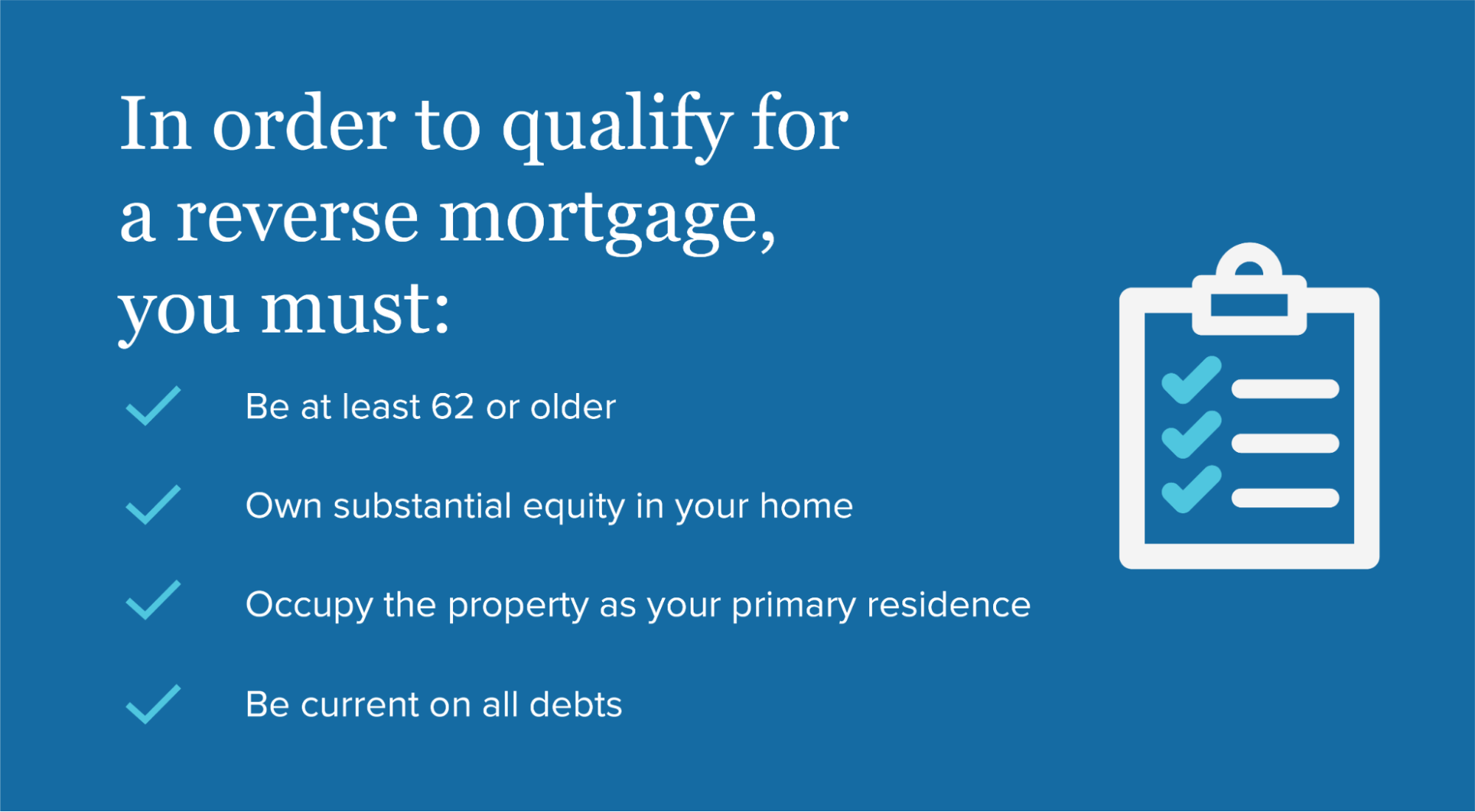 So, no matter where you take your mobile home, the FHA and HUD will mandate the same criteria. Federal guidelines on reverse mortgage eligibility maintain that borrowers must:
Be at least 62 years old

Own substantial equity in their home

Live in the property as their primary residence

Attend a HUD-approved counseling session

Maintain FHA property standards

Stay current on financial obligations such as property tax and mortgage insurance
Other variables may affect your eligibility for a reverse mortgage, so be sure to talk to a GoodLife expert who can help you figure out if you're eligible for this government-backed loan. 
Getting Started with Reverse Mortgages

If you're looking to get started with a reverse mortgage, these articles can help guide you through all aspects of the process.

Guide to HECM Loan                                      Reverse Mortgage Limits

Non-Borrowing Spouse Protections              Jumbo Reverse Mortgages
How to Apply for a Reverse Mortgage on a Mobile Home
In order to begin your reverse mortgage on a mobile home, it's always a good idea to start by reading informative articles on the GoodLife website, and speaking directly with a Reverse Mortgage specialist. Once you've determined that this form of retirement financing may be an effective way to cover costs for you, you can begin the simple, painless reverse mortgage application process.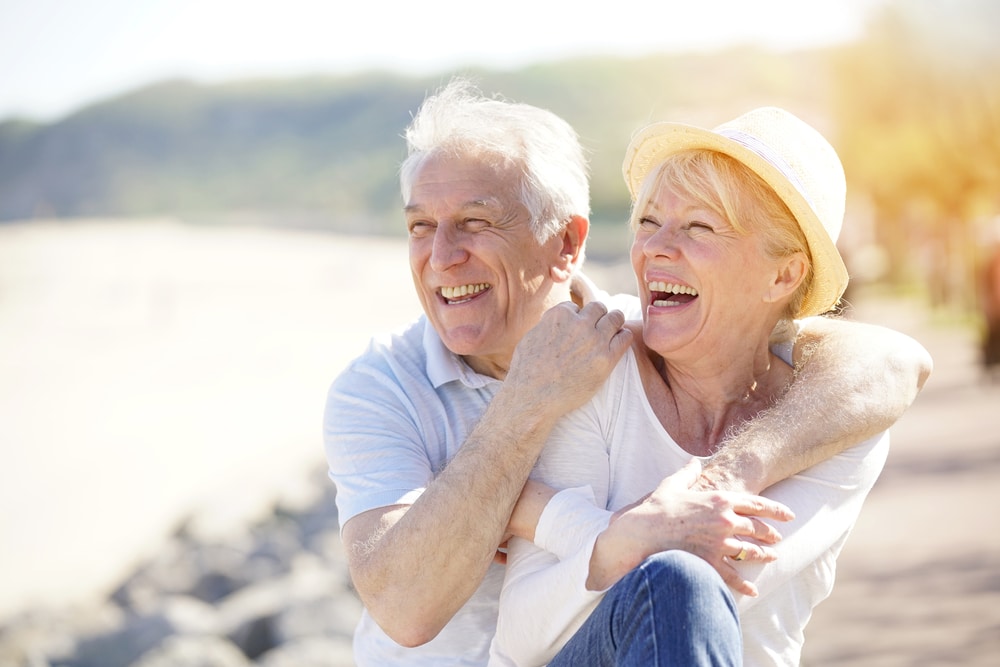 Reverse Mortgage Application Process
GoodLife is glad to assist you in finding a reverse mortgage solution to help you find an additional source of retirement cash. We're delighted to be TrustPilot's top-rated lender, and we offer the finest rates in the market, which can match or beat our competitors' rates. 
Our unique business model allows us to handle the entire reverse mortgage application process in-house, saving you time and money. Most importantly, we move quickly to fund the loan so you can receive fast access to cash.
Education –

We'll start by getting to know you and your financial goals, and then we'll go over the HECM program and how reverse mortgages work. Our purpose is to enhance people's lives by assisting them in achieving greater financial independence, but we're also committed to making sure that this type of loan is the right fit for the right person at the right time.
Counseling –

All applicants must attend an approved counseling session to speak with a counselor who will go through relevant information and validate your eligibility for a HECM, according to HUD criteria.They'll serve as an unbiased third party that can answer any extra questions you might have.
Application –

Following that, we'll arrange for a professional appraisal to ensure that your property is safe and up to FHA standards. The appraiser will also make an estimate of your home's value to assist us in determining how much equity we can help you access through loan proceeds.
Funding –

We'll quickly create and fund the loan after the application is authorized.

You have the option of receiving your money in monthly installments, a line of credit, or in one lump sum. 
Living the GoodLife in Retirement
GoodLife Homeloans seeks to make reverse mortgage funding simple and accessible for a diverse population of homeowners.  We're here to help you figure out if a home equity conversion mortgage is a good fit for your retirement plans.
Our team is dedicated to assisting seniors in living The GoodLife in Retirement; if you have any additional questions or are ready to apply for a HECM loan, please contact one of our Reverse Mortgage Specialists.