Good Faith Estimate (GFE): What Is a Good Faith Estimate?
Good faith estimate was the term that the loan industry used to describe a form lenders would give borrowers, which detailed the amount a loan would cost, including a breakdown of the payments due and additional charges, such as interest. In 2015, however, this term was abandoned in favor of loan estimate form. In either case, borrowers can use these forms to help compare across multiple potential lenders.
If you are considering applying for a reverse mortgage or other form of loan, it's usually a good idea to ask for a loan estimate form so that you can be fully aware of your options before committing. Here's what else you may want to know about loan estimate forms. 
How does a good faith estimate work?
A good faith estimate — or, as they are now known, loan estimate forms — are produced by lending companies that you are considering working with to finance a large purchase, such as a mortgage for a home. Reverse mortgage lenders, such as GoodLife, are required to provide applicants with loan estimates when they apply for a reverse mortgage. 
When applying for a reverse mortgage, you will be provided with a loan estimate as part of the process. Note that receiving a loan estimate does not mean you have purchased the loan. It is also good to note that you may be charged a credit report fee when receiving a loan estimate. After receiving your estimate, you are free to use that document as you shop around for the right vendor for your situation and preferences. 
Will my credit score be impacted by a loan estimate?
Receiving a loan estimate does not hurt your credit score on its own. However, if you do proceed with a loan company, they may require more financial information in order to finalize the loan process. This will likely include a full credit report. 
Pulling a full credit report could potentially impact your credit, especially if done frequently. However, if your reverse mortgage loan origination is the only time that you receive a hard credit check, the impact on your credit score is likely to be minimal. 
What is included in a good faith estimate?
Loan estimates work by adding up the various costs that go into a loan. They can be useful when comparing across different lenders, as the fee structure that different lenders use could impact the amount that the loan ultimately costs you over time. 
Some examples of the costs that may be included in a loan estimate are:
The value of the loan

The annual percentage rate (APR)

Origination fees

Closing costs

Taxes and insurance fees

Potential penalties for late payments

Any other fees associated with the loan

A sum of payments that will be made once the loan is completed
The aim is to provide consumers with an accurate estimate of the total amount that purchasing the loan will cost them over its duration. If you have questions about the costs associated with taking out a reverse mortgage, reverse mortgage eligibility, or you want to receive a loan estimate yourself, consider speaking with a GoodLife Reverse Mortgage Specialist, who will be happy to walk you through the process. You can also start by using the reverse mortgage calculator to gain an idea of your potential cash flow. 
Line of credit reverse mortgages offer an...
See More
When you apply for a reverse mortgage, lenders must conduct...
See More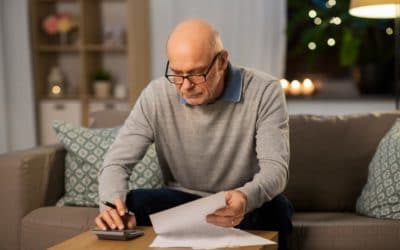 The interest of adjustable-rate mortgages (ARM) are tied to the index and margin. The index is a reference point for the interest rate and...
read more