Proprietary Reverse Mortgage: X Things Seniors Should Know
Proprietary Reverse Mortgage
Most reverse mortgages are issued through the HECM program — Home Equity Conversion Mortgage. That program is regulated and insured by the Federal Housing Administration (FHA). Proprietary reverse mortgages differ from HECM loans because they are not overseen or insured by the FHA.
What is a Proprietary Reverse Mortgage?
Proprietary reverse mortgage definition: Proprietary reverse mortgages are sometimes called jumbo reverse mortgages because they allow homeowners with homes valued above the HECM claim limits to take out a reverse mortgage on their property. Proprietary reverse mortgages are useful in some situations, so it's a good idea to consider different loan options if you are considering a reverse mortgage. 
Curious about how much you can increase your cash flow with a reverse mortgage? Our reverse mortgage calculator can provide you with a useful estimate of your potential.
What is the Difference Between Proprietary Reverse Mortgage and HECM?
Proprietary reverse mortgages do not have to abide by the regulations put in place to govern HECM reverse mortgages. HECM loans are insured by the FHA — that means that, if the borrower defaults, the lender won't lose as much money as they otherwise would. This insurance allows HECM loans to come at affordable reverse mortgage interest rates and with great terms, like those offered by GoodLife Home Loans. 
For a thorough guide to HECM loans, our most commonly sold reverse mortgage product,

download our HECM guide

. It's completely free, and can walk you through the reverse mortgage process so you can make financial decisions with confidence. 
Proprietary reverse mortgages, on the other hand, do not have the FHA's backing. That means they are entirely the responsibility of the lender and the borrower — the government doesn't intervene. This results in fewer regulations and potentially higher interest rates. 
How Does a Proprietary Reverse Mortgage Work?
Other than the fact that proprietary reverse mortgages do not have FHA backing, they function mostly in the same way that HECM loans do. In general, GoodLife requires borrowers to meet certain criteria before they are eligible for any reverse mortgage, whether a HECM or a proprietary reverse mortgage. 
These criteria include:
Borrowers must be at least 62 years old.

You must own substantial equity in their home.

Borrowers are required to live in the property as their primary residence.

Maintain high property standards throughout the period of the loan.

Stay current on financial obligations such as property tax and mortgage insurance.
For a full explanation of our requirements, be sure to read the reverse mortgage eligibility page. And, if you still have questions, don't worry — a GoodLife Reverse Mortgage Specialist will be happy to walk you through what you need to know, including whether your situation calls for a HECM or a proprietary mortgage solution.
When you apply for a reverse mortgage, lenders must conduct...
See More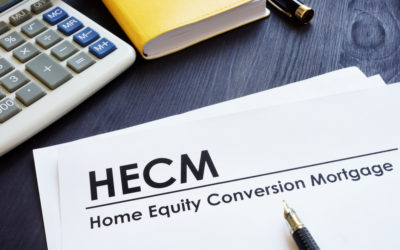 You've built all this equity in your home over the years, but when is the right time to access it? If you're in the golden years of your...
read more