Even if you're a perfectly healthy older adult at the present, nobody can anticipate what or when health issues might crop up in the future. For example, you're more likely to experience a bone break as you get older which may limit your mobility and mean that you require more intensive day-to-day care. In the event that you need long-term care (LTC) in the form of a nursing home, assisted living facility, adult daycare center or require a home health aide in your home, how will you pay for it? One solution is to purchase long-term health insurance.
Below, we'll dive into the details of what long-term health insurance covers, its costs, and other ways to fund your care as you age.
What is a long-term care insurance policy?
This type of insurance policy covers chronic medical conditions. Typically, most policies will reimburse you for healthcare given in places such as:
Your home
Nursing home
Assisted living facility
Adult daycare

When should I buy long-term care insurance?
If you already have a chronic disability or you're already in your late 60s or early 70s, you may have a harder time qualifying for a long-term healthcare insurance policy as this should be purchased prior to this time.
It's a good idea to think about long-term care when you're in your mid-50s, before any major health issues have cropped up. Each insurer has their own health requirements which you will have to meet to qualify for coverage.
If you're a healthy older adult, some insurers may offer "good health" discounts. In most cases, premiums for long-term care depend on how old you are when you apply. We'll talk more in-depth about the prices you can expect a little later.
How do policies typically work?
Benefits are typically available for you to use when you meet three conditions:
You can't perform two out of six basic day-to-day activities like bathing, dressing, or eating or if you're displaying symptoms of cognitive decline.
If your doctor states your condition is expected to last at least 90 days
You have paid for long-term care services for the number of days in your waiting period. For many plans, this will be either a 60-day or 90-day waiting period.
What are the costs of long-term health insurance?
According to the 2019 Nation Long-Term Care Insurance Price Index, average rates are as follows:
Single Male, 55 years old

2019 annual average premium: $2,050

Single Female, 55 years old

2019 annual average premium: $2,700

Couple, 55 years old

2019 annual average premium: $3,050 combined
Note: There is usually a percentage increase in the premium you pay on your birthday. You can also opt to buy additional coverage or pay for inflation protection as the cost of care rises in the future. These variables will affect your premiums. It's important that you know exactly how these factors will influence how much you'll pay so make sure you work with a reputable insurance representative and get all your questions answered.
Why buy long-term care insurance?
About half of all 65-year-olds today will develop a disability and require some long-term care. Traditional health insurance isn't inclusive of long-term care services nor is Medicare. If you don't have insurance to pay for long-term insurance, you'll have to pay for those expenses out of pocket.
There are state and federal health insurance programs for low-income seniors but unfortunately, not everyone will qualify for those programs. With this information in mind, let's dive into why it may be prudent for you to consider an LTC policy: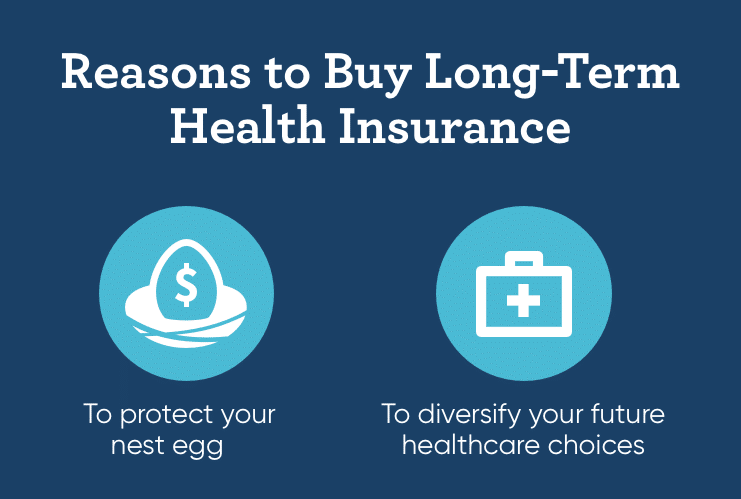 Reason 1: To protect your nest egg
Long-term care costs are expensive and often increase with age. The median national prices you can expect under long-term care options are as follows:
Assisted Living
Home Health Aide

Per year, half-day cost: $22,884

Nursing Home

Semi-private room, per year: $89,292 per year

Private room: $100,380 per year
For many seniors, these costs can be prohibitive and cut into savings that need to last between 20-30 years depending on your life expectancy.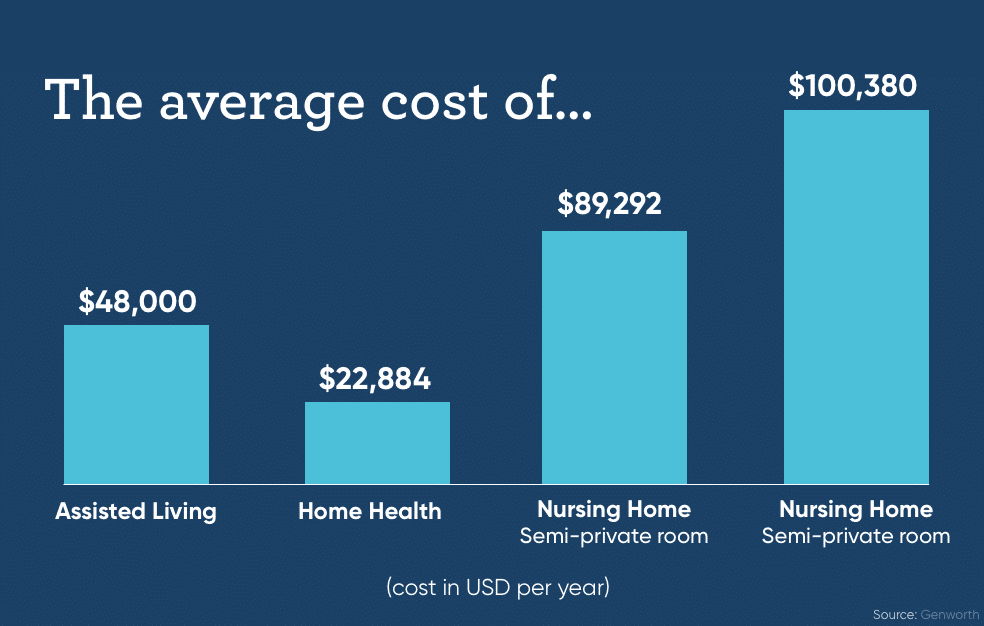 Reason 2: To expand your care choices
Another reason seniors may opt to invest in long-term care insurance is to provide themselves with a larger variety of care options. Medicaid users are limited in terms of choices, it will usually only cover nursing home care and some types of at-home care which may not be your ideal care choice.
If you have more money at your disposal to put toward your healthcare, you'll have more options for how you'd like to steer the future of your care.
What should I consider before getting a long term insurance policy?
Here are a few key considerations you'll want to think about before getting a LTC insurance policy:
Age: The best time to apply for long-term care is when you're in your 50s. If you're older or have a serious pre-existing condition, there's a chance you won't be able to qualify for coverage.
Health: If you're healthy, you have a much better chance of meeting an insurer's health requirements.
Premiums: Premiums usually increase over time, on or around your birthday. Generally, your premiums rise by 2% each birthday in your 50s and by 6-8% when you reach your 60s. Can you continue paying for your premiums and stay within your overall retirement budget?
Income: Consider your income before signing up for a long-term care policy. If you're already struggling to pay for your expenses, paying thousands for a policy every year might not make financial sense. If your income is low and you don't have enough assets when you need long-term care, you may qualify for Medicaid which will pay for nursing home care and may even cover at-home care in some states. To get Medicaid however, you'll have to exhaust your other options and meet certain eligibility requirements.
Retirement savings: Do you have a robust income stream (or more than one) you can depend on when you retire? The most prudent option for most seniors would be to meet with a financial advisor who can give you insight into whether or not it makes sense for you based on your particular financial circumstances.
Taxes: Benefits you get from a long-term care policy are typically "tax-qualified." This means that if you itemize deductions and have medical costs that make up more than 7.5% of your adjusted gross income, you can deduct the cost of your premiums from your federal income tax costs.
Where can I buy a long-term care policy?
You have a few different ways to buy long-term care but the most common methods are through an insurance agent, a financial consultant, or an insurance broker.
States regulate what companies sell long-term care policies and which products those companies are able to sell. Currently, there are more than 100 companies that offer long-term care insurance across the nation, but just 15-20 insurers make up the bulk of these available policies.
To learn more about what companies sell these kinds of policies, you can get into contact with your state's Department of Insurance.
What are other ways to pay for long-term care?
If you have a pre-existing condition, you've aged out of the qualification range, or long-term care insurance is too expensive, you still have options available to you to pay for your care as you age.
One option to consider is a reverse mortgage loan as a way to finance your care. You'll need to meet a few conditions to qualify for a reverse mortgage such as being at least 62 years of age, live in your home permanently, and have a substantial amount of equity in your home.
If you meet these conditions, you may be eligible to obtain this loan and receive proceeds in the form of a line of credit, a lump sum, or a combination of the two. To get an estimate of the loan you could expect, you can input your information into our reverse mortgage calculator.
The proceeds from your reverse mortgage loan aren't considered income and therefore, aren't taxable. Additional reverse mortgage benefits include being able to use these funds for anything you want such as your long-term care needs — without worrying about paying back the loan. It's especially useful if you plan on aging in place so you can use your reverse mortgage proceeds to pay for at-home care.
Takeaways
If you're worried about your ability to pay for your long-term care needs, you can prepare by planning early. But even if you don't qualify, you can still take control over your future health care by exploring reverse mortgages. This form of financing can mean the difference between choosing the care you want versus getting told what kind of care you'll receive. To find out more about your reverse mortgage eligibility, you can contact one of our Reverse Mortgage Specialists who can help discern whether or not this is the right option for you.