One benefit of being a senior is that you get to enjoy all the senior discounts that retailers, restaurants, and travel companies offer. These discounts are a company's way of showing their respect and admiration for senior citizens. Many will offer substantial price reductions on their goods and services, so if you're trying to put together a budget for retirement, consider factoring senior discounts into your monthly planning — doing so can help you stretch your dollar a little further.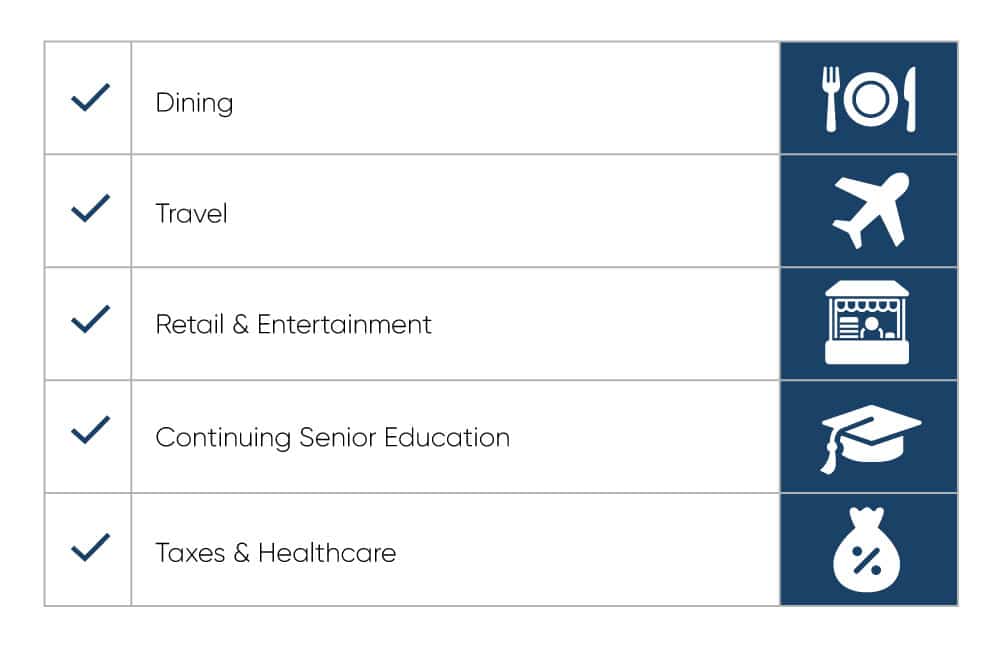 Read more to find out about how you can leverage senior discounts in retirement.  We'll provide you with a list of the best senior discounts, average age requirements, and tips on how to factor these savings into your budget. If you have a specific question in mind, click on one of the links below to jump directly to the related section. 
What are senior discounts?
Senior citizens often live on a fixed income and tend to have a greater number of medically-related expenses as they age. Thankfully, many retailers, restaurants, travel companies, and similar organizations offer discounted rates on their goods and services to seniors.  Although you may not see a senior discount advertised at your next outing, you might be surprised by the savings you can find by simply asking if they are offered at the location.
By saving money on your day-to-day purchases, you can stretch your retirement savings further. That can be very helpful for seniors who want to enjoy their new free time, but are financially limited to Social Security benefits, retirement distributions, and personal savings. Perhaps that's why 45% of Baby Boomers and senior adults use the internet to research information to available discounts and deals every month.
What is the average senior discount age?
In general, most senior discounts are available to people over the age of 62. Some places offer them as young as 55 while others provide discounts to those aged 65 and up. 
Senior discounts vary by age depending on the establishment in question. Unfortunately, they are not offered universally because there is no legal requirement that any company must do so. Rates are inconsistent, so be sure to ask for information wherever you may be shopping. 
Tip: Many discounts require that seniors be AARP members, so if you had any reservations about signing up for an AARP membership, the great variety of senior discounts available to members could be motivated to join. 
What discounts are available for senior citizens?
There are plenty of senior discounts available at retailers, restaurants, and entertainment destinations across the USA — plus, if you're , you may be able to get discounts on plane flights, hotels, and rental cars, stretching your travel budget a little further. 
ConsumerReports.org finds that senior discounts are a consistent way for retirees to keep extra cash in their pockets. There are general categories of establishments and services that senior discounts fall under. Read on for a senior discount list of places where you can save. 
Dining
Many American chain restaurants offer senior discounts. Favorites like Arby's, Ben & Jerry's, and Outback Steakhouse are known for their generous deals. AARP members stand to save even more, with many restaurants offering 10% – 15% discounts for cardholders. 
You can also ask your local grocery store whether they offer discounts. Grocery stores might not be the first place you think of when it comes to senior discounts, but some stores like Publix and Piggly Wiggly offer senior benefits in select states and on certain days of the week. You should think about calling ahead to find out what the specifics at your local market are.
If you plan on eating out every once in awhile, or you're trying to plan your monthly grocery bill, factoring in senior discounts can be a useful way to stretch your budget and enjoy some of the perks of retirement. By strategically planning your monthly restaurant outings to places that offer senior discounts, you stand to save significantly on that portion of retirement expenses.
Travel
Travel is one of the best opportunities in retirement. With your 9 to 5 days behind you, those hours spent in the office are now available to go on excursions to Europe, explore the sights in Latin America, or finally take the American cross-country road trip you've dreamed about. Senior discounts make that a lot easier on your budget. With 52% of seniors spending 8 days or more on vacation when they decided to plan a trip, senior discounts on travel are incredibly valuable.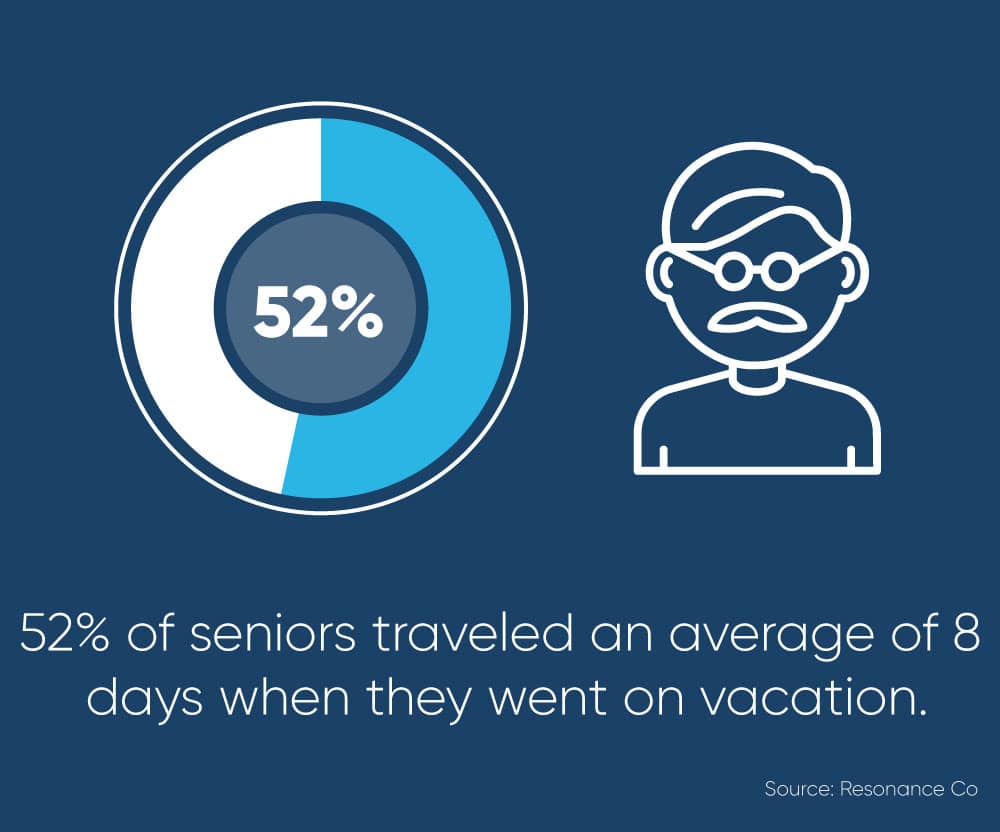 Many airlines offer discounts for people over 65, including popular options like Southwest, American Airlines, United, and British Airways. In most cases, you'll have to call ahead to claim your discount, but the savings may be worth the hassle. 
Rental car companies like Hertz and Payless also offer senior discounts. If you need to rent a car once you arrive at your travel destination, remember to ask at the counter and have your AARP card ready. If you choose to use other forms of transit, Amtrak and Greyhound also offer senior discounts. 
Tip: Senior travel groups are a good option and occasionally offer discounted rates. If you're thinking of traveling outside the country but you're nervous about going alone or without a guide, consider a senior travel group. You can call ahead to see if they offer any discounts or other incentives for AARP members or travelers over 65. 
Those who love spending time outdoors will be glad to learn that National Parks offer senior discounts on annual park passes. America's National Parks are one of the country's greatest treasures, and they offer an excellent opportunity for travel during retirement due to their accessibility and low overall cost.
Don't worry if you're not inclined toward hiking and camping, popular hotel chains like Best Western and Hyatt offer senior discounts, too. Retirement may offer you an opportunity to treat yourself to a luxury hotel stay at a discounted rate.
Getting Started with Reverse Mortgages

If you're looking to get started with a reverse mortgage, these articles can help guide you through all aspects of the process.

Guide to HECM Loan                                      Reverse Mortgage Limits

Non-Borrowing Spouse Protections              Jumbo Reverse Mortgages
Retail & entertainment
Senior benefits are also available at popular entertainment destinations, including AMC Theaters. The next time you go to see a play, a film, or a concert, it's worth asking at the ticket booth if they offer senior discounts. Many venues will simply have a lower regular ticket price for patrons over the age of 60, so be sure to bring your ID when you purchase your ticket. 
Continuing senior education
Just because you're retired doesn't mean you have to stop learning and improving. You can expand your knowledge in retirement by enrolling in university classes on interesting topics. In fact, many public state universities and community colleges offer discounted rates on classes for seniors, and some explicitly offer programs where seniors can sign up for classes on general interest topics without the hassle of exams or homework. 
You can check your local state university or community college's webpage to see whether any of these programs exist in your area. They may offer senior benefits or discounted rates for retirees, people over 65, or AARP cardholders. 
Taxes & healthcare
Though they might not explicitly be called senior discounts, you should be aware of the deductions, exemptions, and tax credits that are available to retirees. 
If you're a veteran, or if you're over the age of 65, many states offer a partial or total exemption on state property taxes. The federal government also offers tax exemptions for retirees, including the ability to access your 401k or IRA without being assessed the 10%+ tax levied on those who withdraw from their retirement accounts prior to age 59 ½. It's worth looking into your state's local tax policy to see whether they offer any additional tax relief for seniors and retirees.
Healthcare is of great concern to many seniors. Luckily, Medicare is available once you retire. Through Original Medicare and Medicare Supplemental insurance, like Medigap and Medicare Advantage, a wide range of discounted or completely covered healthcare services are available to seniors. 
Many medical devices and services such as eye exams are also available at discounted rates to retirees. If you need to purchase a powered wheelchair, refit your home for disability access, or get reading glasses at a retailer like Costco, it is possible that senior discounts may be available.
Help with funding your retirement
Senior discounts are a handy way to save extra money, helping you stretch your savings further and enjoy the best parts of retirement. However, if senior discounts don't alleviate your financial burdens enough to live comfortably during retirement, you may want to consider reverse mortgage benefits. Reverse mortgages may increase your monthly cash flow by tapping into a portion of the equity in your home. Use our reverse mortgage calculator to estimate how much you may be able to benefit from loan proceeds.
General requirements for reverse mortgage eligibility include:
You must be 62 years old or older
You must permanently reside in your home
You must have substantial equity in your home
Contact one of our Reverse Mortgage Specialists to determine whether this may be the right solution for your unique circumstances. Remember, retirement is the time to focus on what makes life enjoyable and rewarding, so contact us to learn how we may be able to help you achieve The GoodLife in Retirement.