As life progresses, you may find that a little help with your daily needs can come in handy. Seniors who want to age in place but need the kind of daily care offered at a professional senior living facility might consider a geriatric care manager who can help them live at home.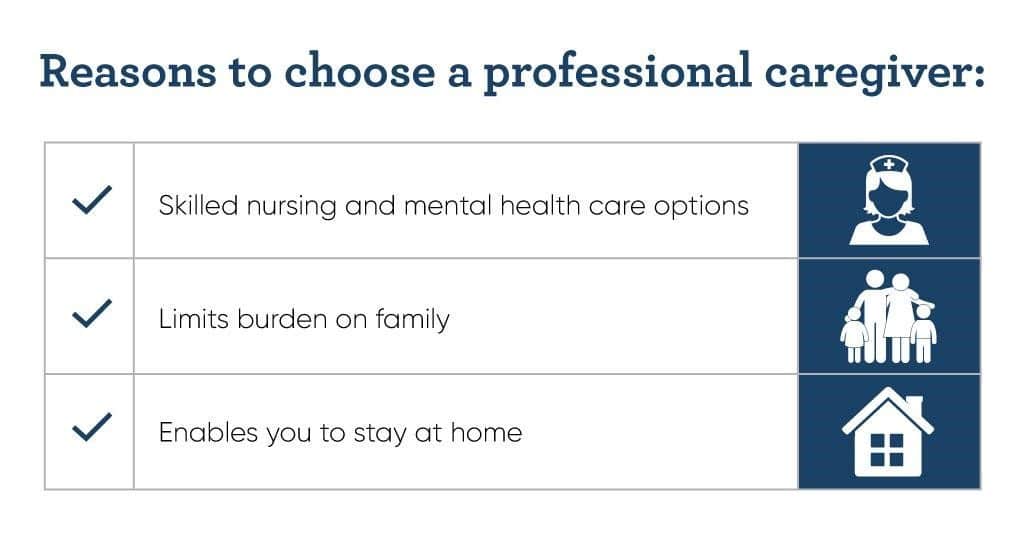 A geriatric care manager is an at-home assistant who can assist you with everything from psychological care to nursing needs. They can also be hired on to help with tasks around the house, like keeping things organized, as well as helping to assess what future medical treatments or mental health care interventions a senior may need.
In this post, we'll discuss what geriatric care managers do, when you may want to start considering one, their average cost, and how to pay for care. Read through to find out how this profession can aid seniors, or select one of the links below to jump straight to the section you're curious about.
What is a geriatric care manager?
Geriatric care managers, or GCMs, are professionals who are licensed in areas like social work, nursing, gerontology, or mental health. According to the National Institute on Aging, they are sometimes referred to as a "professional relative" because they perform many of the daily needs that a relative might. These are some of the most common services that a geriatric care manager can provide:
Giving attention to medical needs, such as helping schedule an appointment to see a doctor, ensuring that prescription schedules are maintained, and evaluating care needs
Providing minor geriatric care nurse services, like checking up on vitals
Offering an ear to talk to about difficulties associated with aging
Organizing resources and making a geriatric care plan for future medical needs
Helping connect clients with government services like Medicare or Social Security
Assisting around the home with tasks such as grooming, dressing, and mobility
In general, you can rely on a geriatric care manager to assist with many of the complicated and difficult aspects of aging. For seniors with family who live far away or who are too busy to tend to many of their needs, the help of a professional care manager can significantly improve quality of life. That leads many seniors and their family members to wonder when they should begin considering professional geriatric care management.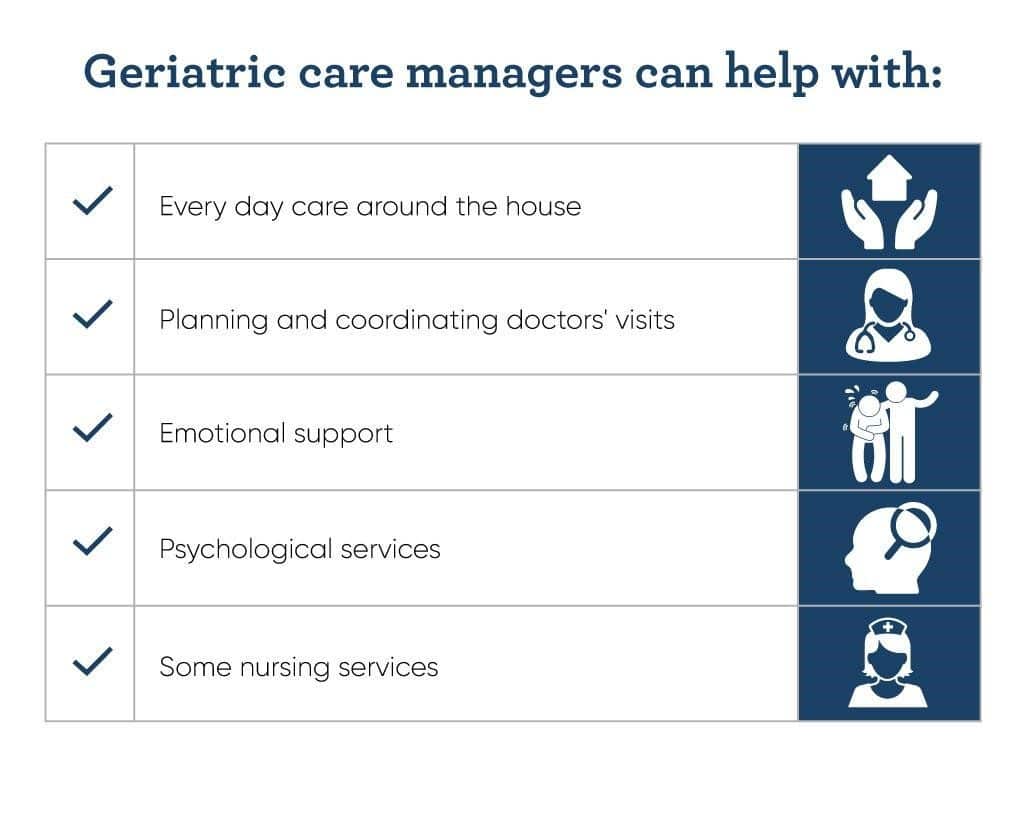 When should I start thinking about hiring a geriatric care manager?
It's never to early to start thinking about taking care of yourself during retirement. However, those with a chronic medical condition that needs careful tending-to may want to start thinking about professional care earlier on.
Some questions to ask yourself prior to interviewing GCMs include the following:
Are you unable to organize your own medical care confidently?
Do you need someone around the house to make sure that you're looked after?
Do you struggle with any medical conditions that need careful and consistent monitoring?
Would you prefer to receive geriatric care at home, rather than moving to a professional nursing facility?
Is your family unable to provide you with the kind of care that you need?
If you've answered yes to many of these questions, then it may be time to start thinking about hiring on extra help. Caregiver.org reports that the average age of those receiving care is 69. However, age is not the only thing that should determine your decision. If you're in your 80s and still getting around well on your own, a GCM might be unnecessary. On the other end of the spectrum, plenty of younger adults find that they need a professional caregiver if they have medical conditions that require extra support.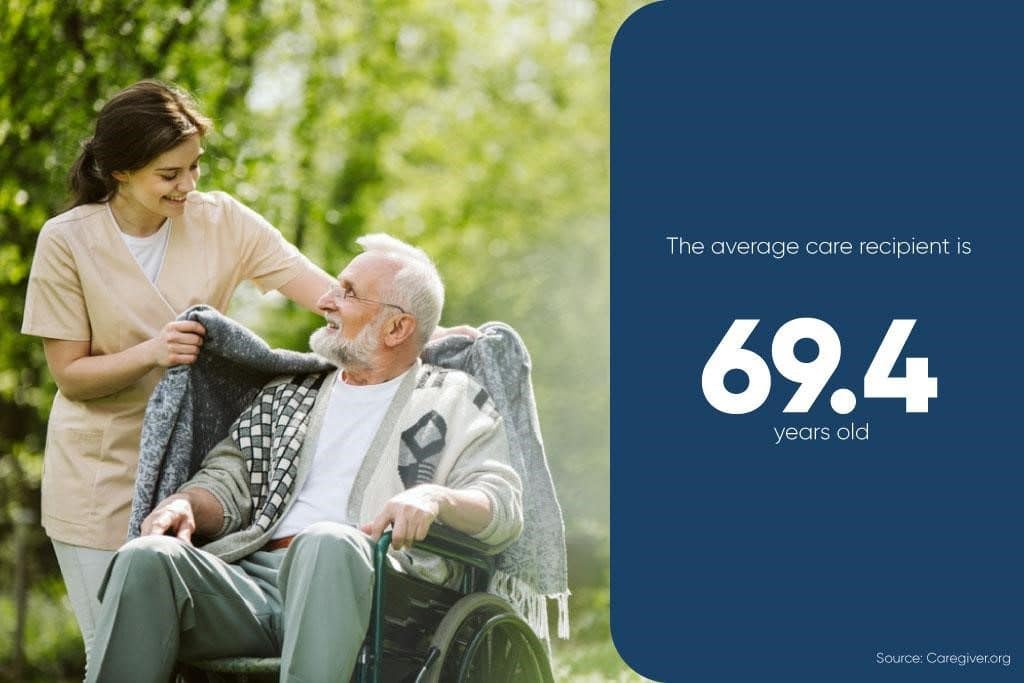 The bottom line is whether you feel that professional care would improve your day to day life experience. Geriatric care managers are your advocates and guardians in the realms of medicine, mental health, personal logistics, and geriatric care planning. That can make all the difference in the world for a senior who has been struggling to tend to all of life's complications.
What should I look for in a care manager?
One of the most important factors to think about when interviewing potential GCMs is how well you get along. While you may not need to be on friendly terms with the geriatric care nurse who takes your blood pressure and temperature, a GCM will likely be a significant part of your life for years to come.
Remember, GCMs provide geriatric care at home. It's likely that you will see them more days than not, and you'll rely on them for personally important matters, like medical scheduling and restroom assistance. Prioritizing someone you trust and can enjoy spending time with is crucial when making your decision.
That said, friendliness and trustworthiness aren't the only things you should consider. The other aspect of the situation is that GCMs are professionals who must be responsible for serious aspects of your care. That means they should have a good track record and at least some form of licensure that qualifies them to manage your care. Important qualifications to look for include:
A license in a relevant area like gerontology, nursing, mental health, or social work
Experience taking care of others
Knowledge of common elder-care resources, such as Medicare, Social Security, and Disability Benefits
Familiarity with healthcare laws
Patient and understanding outlook
Agreeable and kindhearted personality
Finding the right qualities in a GCM is essential. You shouldn't feel bad if it takes you a few tries to meet the perfect match. With the range of services these professionals must provide, and the diversity of skills they must be competent in, you don't want to settle for someone who might make mistakes or mistreat you.
As you might expect, because these professionals are so skilled and have such a range of responsibilities, their services can be somewhat costly.
How much do geriatric care managers cost?
A study by AARP found that the average hourly fee for a care manager was $74 per hour. Geriatric care managers not only provide a wide range of skills and experience, but they bring them to your home. This is why their rates can be quite expensive. In addition to the hourly fee, most care managers charge startup fees. Startup services often include drawing up a professional care plan, which comes at an average price of $168, and an initial consultation, that averages $175.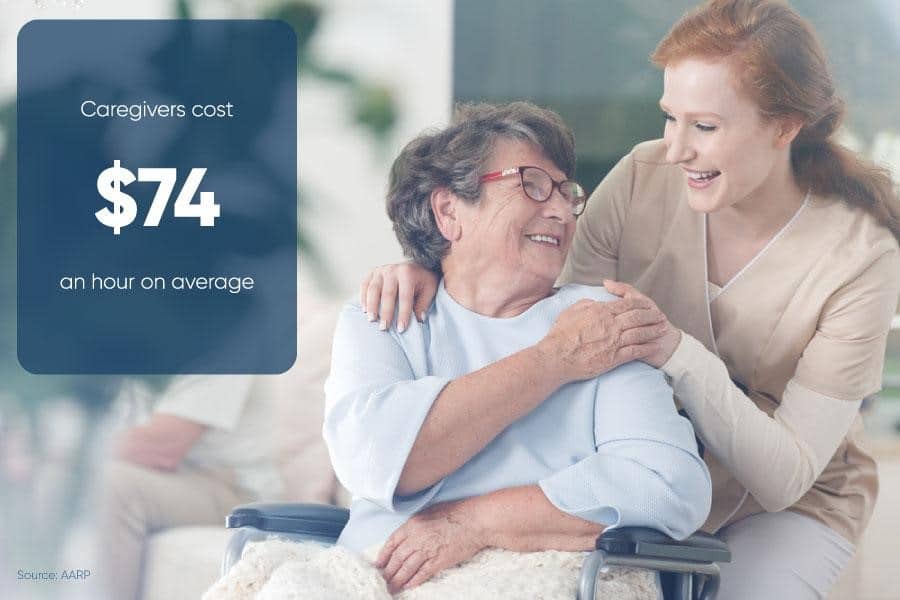 Along with other retirement expenses like groceries, property taxes, rent, a mortgage, and your hobbies, it can be easy to see why so many seniors struggle to pay for a GCM. It's important to remember that your life and wellbeing are invaluable. Geriatric care management is expensive, but with various retirement funding solutions, they can be paid for.
How can I pay for a care manager?
As with other retirement expenses, there are a number of ways that you can pay for senior care at home. The first line of funding that many seniors rely on is their retirement savings. It's often recommended that you save $1 million to $1.5 million for retirement, so, if you've managed to build up that nest egg, payment for a care manager may be within reach.
However, very few Americans have saved near that amount, so it's understandable if using retirement savings to pay for a GCM is not a reliable plan for you. There are still other options. Some seniors decide to have an encore career, working remotely and providing advising to newer professionals in the field they retired from. They may also choose to turn a craft or hobby into a part-time job, selling their wares on a site like Etsy. Adding new revenue streams to your retirement savings can help pay for your care, and also provide you with a sense of purpose in retirement.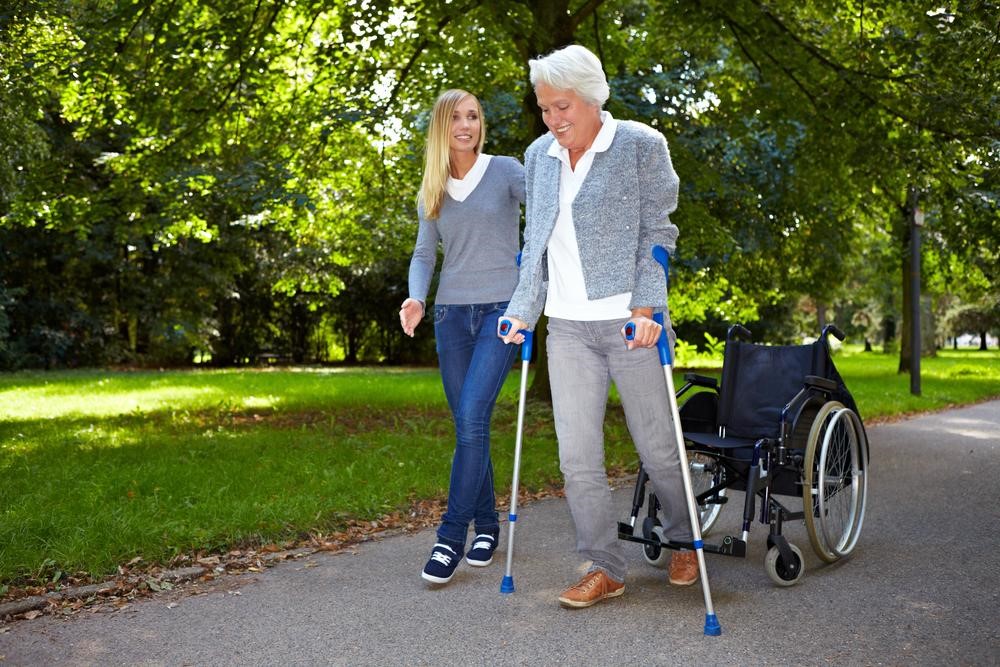 Some retirees are also able to rely on help from family members or adult children for financial assistance. While family may not be able to cover the entire cost, having them chip in to help is one way that seniors are able to cover costs more effectively. Family members who live far from their senior relatives are often happy to help pay for a GCM, as they themselves can't be there to help their family in retirement.
Another way that retirees can add supplemental income is through a Housing Equity Conversion Mortgage (HECM), often called a reverse mortgage loan. These loans allow eligible homeowners to access the equity in your home via monthly installments, a lump sum, or a line of credit. Retirees who wish to continue living in their homes but need an extra line of cash or credit may find them especially helpful, as they can go far to help pay for at-home care from a GCM.
If this option sounds like it may be a solution for financing your retirement, it's important to know how a reverse mortgage works. In order to access the equity in your home as loan proceeds, you'll need to meet a few reverse mortgage qualifications. They include:
Age: You or your spouse must be 62 or above to qualify.
Home equity: In most cases, you must have at least 50% equity in your home.
Owner occupied: You live in the property as your primary residence.
Counseling session: You must attend a counseling session with an HUD-approved agency.
Reverse mortgage proceeds have helped many seniors maintain their quality of life well into retirement. Those who are curious about how much a reverse mortgage could increase their revenue streams can try out our reverse mortgage loan calculator for free. It only takes a few minutes and can give you a clearer picture of your potential benefits. Don't let your care needs fall down on your priority list in retirement. With the right financing strategies, receiving geriatric care at home with a GCM is a possibility.